With the majority of us at home for long periods of time right now, snacking can seem more appealing and difficult to avoid. This is a great time to experiment with healthy snack options as most of us will have more time on our hands and can eat our snacks at home rather than worrying about packing them for work or school.
It's important to make sure that we're snacking because we're hungry, rather than snacking because we're bored, tired, or stressed. If we're snacking in response to emotions rather than hunger, then we're more likely to snack on ultra-processed foods, such as biscuits, crisps, or cakes.
These foods are high in sugar and trans fats and are much easier to overeat than whole foods, as they activate our pleasure receptors and keep us going back for more.
If we're snacking because we feel genuinely hungry, it's important to choose our snacks wisely so that we feel satisfied and provide our body with essential nutrients. Snacks that are high in sugar can negatively impact our health if regularly consumed in large amounts. A smarter way to snack is to fill up on minimally-processed whole foods, which keep us feeling fuller for longer.
The dietitians here at Second Nature have put together their favourite healthy snack ideas and recipes to give you some inspiration. All snacks are lower-sugar, lower-carbohydrate, child-friendly, and minimally processed! Recipes marked with a (v) are suitable for (or can be easily adjusted for) vegetarian and vegan individuals.
This is a versatile dish that's high in protein, which keeps us feeling fuller for longer. You can experiment with any vegetables you have in the fridge or even frozen varieties.
Try making a large tray of savoury slice and cutting it into small portions ready to snack on when you're hungry. The recipe above serves meals for 4, but for snacks you could divide it into 8 slices. You can freeze any extra portions you don't want to eat that week, and save them for another week.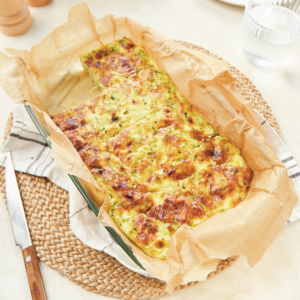 2) Cheese and veggie sticks (v)
A simple, satisfying favourite that you can't go wrong with. Slice up any hard cheese (e.g. cheddar, red leicester, parmesan, or edam) and vegetables (e.g. carrots, celery, radish, edamame peas, or cucumber) you have, and enjoy!
If you want to plan ahead to save time, consider chopping the vegetables at the beginning of each week and leaving them in a tupperware container in the fridge. Then, when you want a snack, grab a few veggie sticks and slice a small piece of cheese. For vegetarians, opt for a vegetarian hard cheese, and for vegans you could swap the cheese for 1-2 falafels or some hummus.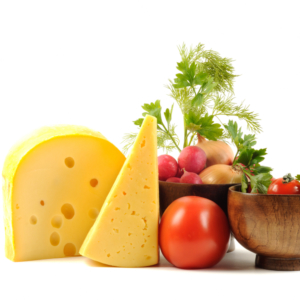 Want to make losing weight feel easier?
Second Nature uses science to help you make healthy choices, ensuring they stick in the long run. Join the 150,000 people on a Second Nature journey today by taking our quiz. We use your quiz answers to tailor our advice and support on the programme, to ensure you lose weight and keep it off.
For a crunchy, savoury snack, try our seed crackers. Unlike traditional crackers, these contain purely ground seeds, whole seeds, and olive oil, making them a naturally low-carbohydrate option. These crackers are naturally vegan.
Consider making a batch of these crackers at the start of the week and changing what you eat them with. For example one day you could have 2 crackers with a small amount of cheese, and another day you could have 2 crackers with ¼ of an avocado.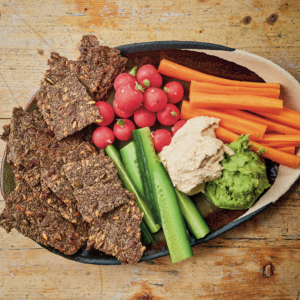 4) Yoghurt and berries (v)
A super quick, sweeter option is 3 tablespoons of natural, unsweetened, yoghurt (e.g. plain, Greek yoghurt) with a small handful of berries (e.g. blueberries, raspberries, blackberries). Opt for full-fat yoghurt, as healthy fats keep us feeling full for longer, and low-fat varieties can contain added sugar. Vegetarian or vegan individuals can swap dairy yoghurt for alternatives, such as soy or coconut yoghurt.
Berries are a good choice of fruit if you're following a lower-carb diet, as they're naturally lower in sugar compared with other fruits, such as banana or citrus fruits. To reduce costs, frozen berries are just as nutritious and much cheaper. You can put them straight into your yoghurt or microwave them in a small bowl or mug for 20 seconds to make a compote.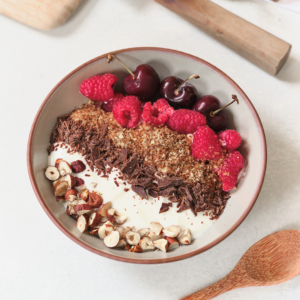 A delicious snack for little effort, these paprika-roasted chickpeas are a great swap for crisps. They're best eaten fresh, as that's when they'll be most crispy. Consider making a big batch in the morning for the whole family to snack on during the day. When you're hungry, grab a handful and enjoy! They're also naturally vegan.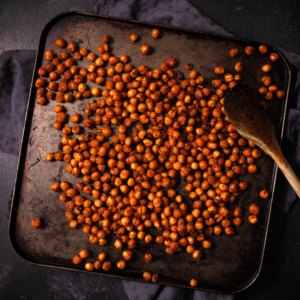 6) Hard-boiled eggs
Eggs are one of the most nutritious foods on the planet. It was once thought that they contributed to heart disease, as they're high in cholesterol, but we now know that dietary cholesterol doesn't impact the cholesterol in our blood.
Boiled eggs are a versatile snack, and can be eaten alone, mashed up with ½ a teaspoon of butter, or even sliced on our seed crackers (see above).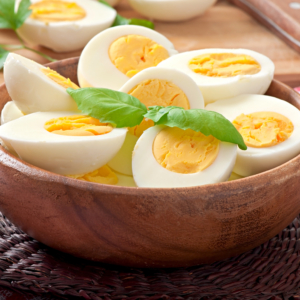 For a snack packed with flavour, try these Thai fishcakes. You can cook a big batch of these at the start of the week and keep them in the fridge in a tupperware container. When you're hungry, grab 1-2 and eat cold or microwave until hot.
This delicious dip is a great way to add a few extra vegetables to your daily intake. Pair it with our seed crackers or veggie sticks for a satisfying snack. Try making a large amount of baba ghanoush on the weekend and keeping it in the fridge, ready for when you want a snack. It can also make a great side dish to throw-together meals.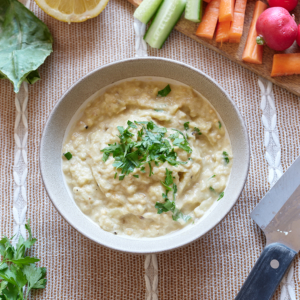 It sounds unusual to have pancakes as a snack, but unlike traditional pancakes, our blueberry pancakes are lower in sugar and higher in fibre. This leaves us feeling full for longer. Our pancakes are suitable for vegetarians, but not vegan individuals as they contain eggs.
This recipe is a family favourite and a great swap for muffins or cakes. You can make a large batch of pancakes and have them ready in the fridge for the week. Consider having one pancake on its own, or half a pancakes with a spoon of natural yoghurt and a few blueberries on top.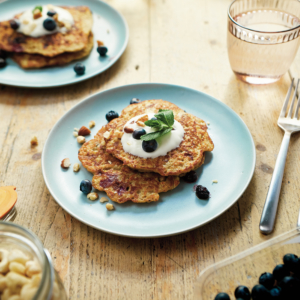 10) Mixed nuts/nut butter (v)
If you've had no time to prepare snacks ahead and you're looking for a quick option, simply eat a handful of mixed nuts or a spoonful of nut butter (e.g. peanut butter or almond butter). Nuts are high in healthy fats and protein, which keep us feeling full for longer. Nut butters are delicious with a square of high-quality dark chocolate (85% plus).
Opt for the plain varieties, rather than salted mixed nuts or nuts coated in flavourings. If you have more time on your hands and want to try something new, you can roast plain mixed nuts with a little salt, pepper, and squeezed lime in the oven for roughly 15 mins at 180 degrees.