Are you looking to make some healthy changes and lose some weight? Receiving support and guidance from a registered nutritionist is a great step in the right direction.
There are a number of different options if you live in Dublin. We've done the research to provide you with this complete guide to choosing the best option for you.
Dietitian, nutritionist, or nutritional therapist?
You might have been confused by seeing the different terms nutritionist, dietitian, and nutritional therapist. To clarify this for you: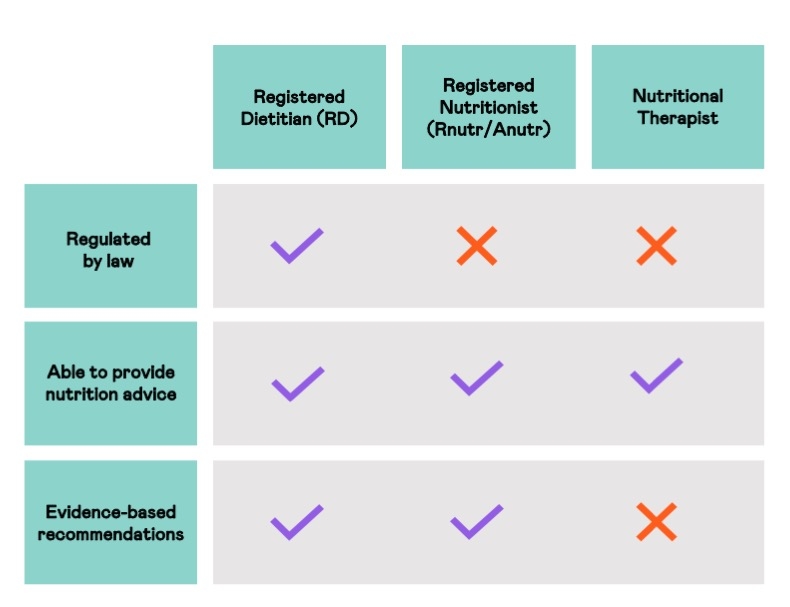 For more detail about the differences between nutrition professionals, take a look at our guide comparing dietitians, nutritionists, and nutritional therapists.
Private nutrition clinics in Dublin
1) Spectrum Nutrition
Spectrum Nutrition is part of the Spectrum Health Group which provides private allied health services across Ireland. The team at Spectrum Nutrition is made up of 5 registered dietitians and nutritionists.
The clinic specialises in weight loss and gain, vegetarian and vegan diets, sports nutrition, diabetes, food allergies and intolerances, polycystic ovary syndrome and more. They offer video appointments in a virtual clinic and have multiple clinics in Dublin.
www.spectrumnutrition.ie
+00 353 (0)1890 333 777

IFSC, Lower Mayor Street, Dublin 2
95 Merrion Square, Dublin 2
Beacon South Quarter, Dublin 18
Tallaght Cross West, Dublin 24
2) Personal Health
Personal Health is a physiotherapy clinic with an in-house registered dietitian. The clinic offers practical, balanced and non-sacrificial eating plans designed to help people to survive and thrive.
Caoimhe O'Leary, the in-house dietitian, specialises in a range of fields including weight management, oncology nutrition support, diabetes, eating disorders, pregnancy, sports nutrition and many more.
personalhealth.ie
+353 (0)1 496 4002
16/17 Rathgar Road, Dublin 6
3) Dublin Nutrition Centre
The Dublin Nutrition Centre is a private centre that provides comprehensive dietary and nutritional advice from registered dietitians. They offer a range of services including weight loss programmes and specific dietary advice about medical issues.
In-person clinics are available during the week, with online clinics available on Saturdays.
www.dnc.ie
+353 (0)1 639 8852
Hambleden House, 19/26 Pembroke Street Lower, Dublin 2
Want to make losing weight feel easier?
Second Nature uses science to help you make healthy choices, ensuring they stick in the long run. Join the 150,000 people on a Second Nature journey today by taking our quiz. We use your quiz answers to tailor our advice and support on the programme, to ensure you lose weight and keep it off.
Alternative option
The challenge with seeing a nutritionist or dietitian in Dublin is that you have to take a few hours out of your week to travel to and from the session and have the consultation. There are also travelling expenses associated with face-to-face consultations.
In the current climate, most in-face appointments have been shifted to online but might still cost the same amount. On top of this, you're limited to your appointment slot rather than getting support as and when you need it.
For this reason, many people prefer the convenience of an online programme, where they can communicate with their nutritionist or dietitian around their busy lifestyle. Plus, many individuals find a digital peer support group to be motivating and helpful.
Second Nature is a digital programme that helps you to lose weight and make sustainable lifestyle changes. Second Nature combines support from registered nutritionists and dietitians with the convenience of an app-based programme.
Many people are more familiar with Weight Watchers or Slimming World, so we created a guide comparing the digital programmes with Second Nature to help you decide what's best for you.
The Second Nature programme focuses on three areas that lead to long-term habit change: tracking, support, and education. When you sign up for the programme, you receive:
Daily support from a registered dietitian or nutritionist health coach
A digital peer support group
2-week, risk-free trial
Hundreds of in-app recipe videos
Daily educational articles
Meal planning and journaling tools
Steps, weight, and habit tracking technology
We'll help you replace bad habits with healthy ones, entirely from our app with no need for face-to-face meetings.
Take a look at our Trustpilot reviews to understand what people think of the programme.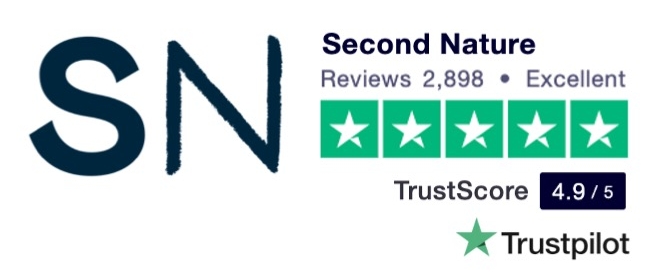 Pricing
Weekly face-to-face sessions with a dietitian, nutritionist, or nutritional therapist at a clinic in Dublin can be very expensive (£40-£100/hour).
To compare the prices of visiting a private nutrition clinic anywhere in Dublin with joining the Second Nature programme, we have added a column representing this (Weekly Nutritionist).
| | | |
| --- | --- | --- |
| | Weekly nutritionist | Second Nature |
| Per month | £300 | £40 |
Meet a member
Don't just take our word for it, hear what a Second Nature member who lives in Dublin has to say about their experience of making healthy lifestyle changes: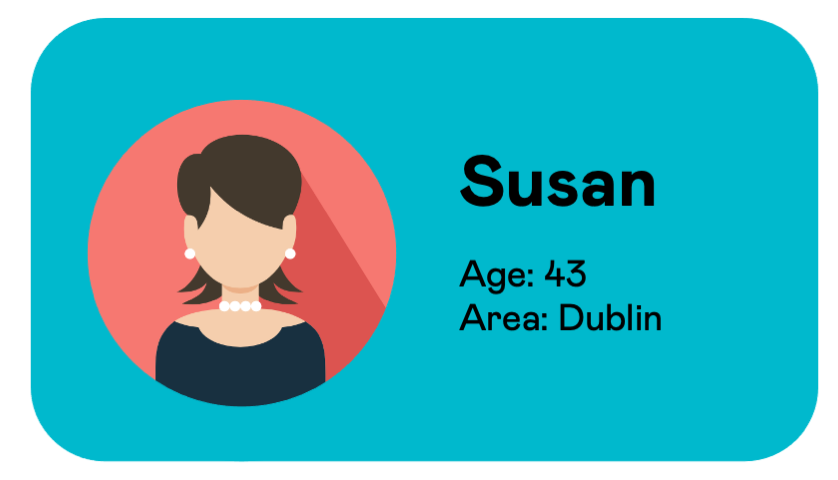 1) Have you ever tried any weight loss programmes or slimming clubs prior to Second Nature?
I've tried diets in the past including SlimFast and the 5:2 diet. I lost weight on both which did make me feel better overall, however, they were unsustainable in the long term. They affected my day to day life too much – it was unsustainable having to carry around shakes or tell people I can't go out for lunch because I can only eat 800 calories today!
I lost weight with SlimFast but didn't keep it off for any significant time. On the 5:2 diet I didn't lose as much weight as I expected and became too hungry and lost motivation to continue.
2) How did you hear about Second Nature?
I saw an advert on Facebook and it grabbed my attention. I went to the Second Nature website to find out more, read all the information. It took me a few days to decide whether I should sign up. I really liked that you have a dietitian or nutritionist leading your group which you don't get with other diet programmes.
4) What made you sign up?
I was feeling very unwell for a long time on and off, with constant tiredness making it a struggle each day to get up and get through the day. I had pain and inflammation in my joints and just felt my situation was getting worse. I was struggling to keep my weight within normal BMI and I knew the extra weight was affecting my joints, my blood results also showed I wasn't getting enough iron, I wanted to make changes to my diet and lifestyle so I could lose weight and get healthier but I did not know where to start.
4) What have you enjoyed most about Second Nature?
I definitely feel the programme is great value and it's a small price to pay for improving your health and wellbeing as well as losing weight. I've found it easy to follow 12 week and there is lots of online help and support. I like that you don't have to attend any groups in person. You can use the app whenever you want, you are with a small group of people who are all starting the programme at the same time as you. I really like that you have a dietitian or nutritionist leading the group which you don't get with other diet programmes.
To find out more about what users think about Second Nature, read their stories here.