The festive period is famously a time of overindulgence and celebrations. Between Christmas dinners and New Year's Eve parties, the temptation to consume large amounts of alcohol is high.
Of course, it is important to relax and enjoy your time with friends or family, however, it can be difficult to keep tabs on how much we are actually drinking.
Drinking an excessive amount of alcohol can have both direct and indirect effects on our weight. Other than the excess energy that alcohol provides, research suggests that once we reach our 'tipping point', our inhibitions are significantly lowered and this results in increased energy intake in the following 48 hours.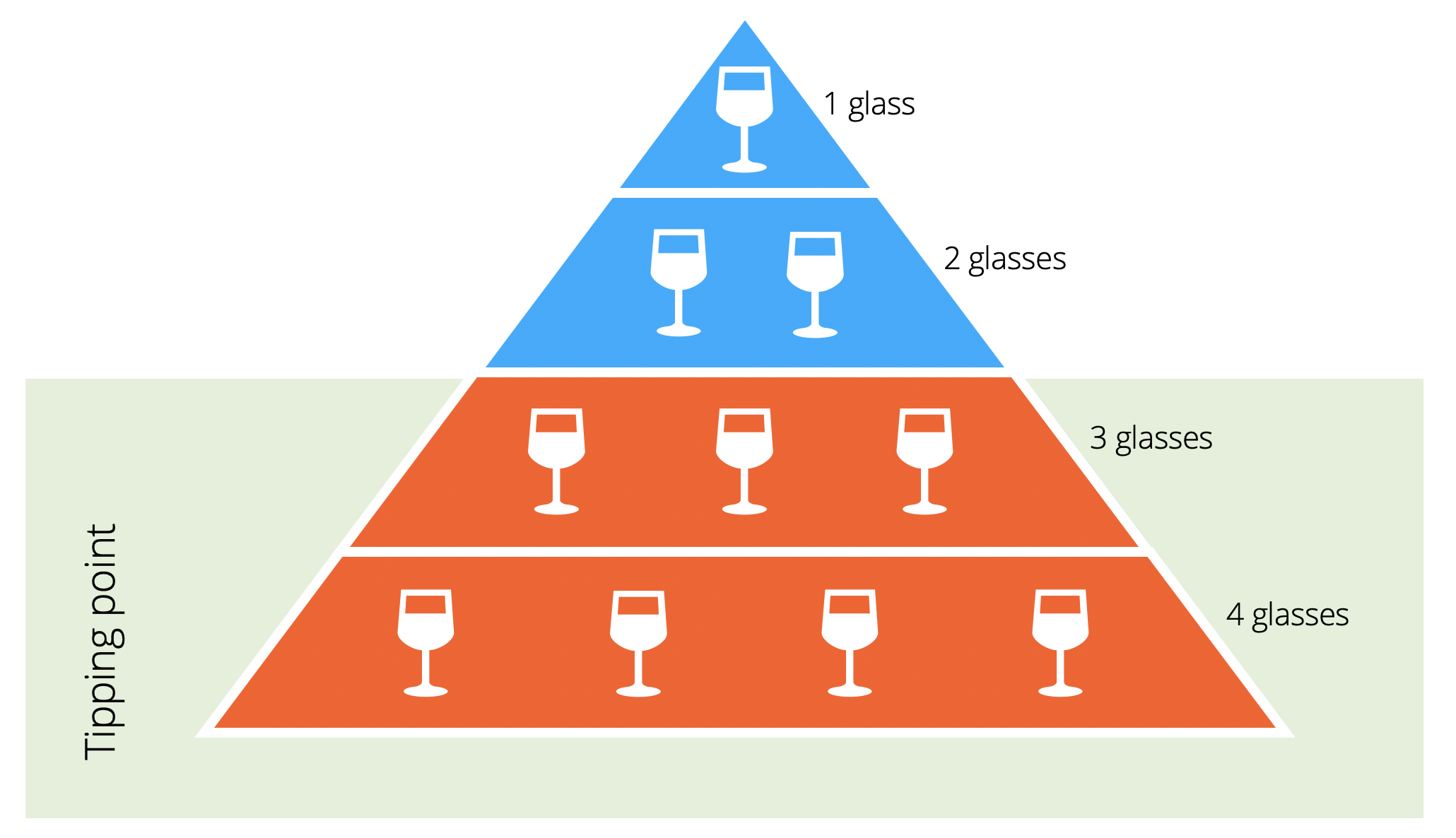 So, how do you keep on track with your health goals and still have a good time? We've compiled a few handy tips below:
1) Set a goal before you go out for the night
You may decide to only have a certain number of drinks, stop drinking at a certain time, or stick to non-alcoholic drinks. Whichever you go for, set a limit and try to keep to this. If you're choosing to avoid alcohol, why not put your hand up to be the designated driver.
2) Have a balanced, filling meal before you go out
This will help prevent you from picking at the roaming canapes or making poor food choices later in the evening after a few drinks.
Want to make losing weight feel easier?
The Second Nature app uses behavioural science to retrain your mind to make healthy choices automatically, so these stick in the long run. Join 150,000 people who've used Second Nature to make losing weight feel easier - the first step is to create your personalised plan with our quick quiz.
3) Opt for long drinks
This means the alcohol is less concentrated and your drink will last longer. For example, a small white wine and soda water spritzer or a single vodka and soda in a tall glass with some lime.
4) Keep hydrated
We know alcohol dehydrates the body, which is why we often end up feeling sluggish and headachy the day after a few drinks. Having a glass of water or soda water between each alcoholic drink can help your body to stay hydrated and reduce the risk of (or the severity of!) a hangover the next day.
5) Know your triggers
If you're trying to watch your alcohol intake throughout December, know which situations you find difficult to avoid temptation. Rather than catching up with friends at the pub, perhaps you could suggest an evening at the cinema or a trip to the local Christmas markets instead.
6) Experiment with non-alcoholic cocktails
If you're hosting a party, consider making some non-alcoholic cocktails that are lower in sugar for your guests. They're just as delicious minus the additional calories from alcohol. You could try some of our Second Nature friendly mocktails below:
Warm ginger pear mocktail with vanilla bean
Serves 2
Ingredients:
– 2 ripe pears, cored and chopped
– 2 inches of fresh ginger, peeled and chopped
– 1 fresh or dried vanilla bean
– 350ml water
– 1 tbsp fresh lemon juice
Method:
Blend pears, ginger, vanilla bean and water in a food processor until you have a smooth puree.
Place a strainer over a saucepan and pour the pear puree into the strainer. Push the puree through the strainer until all the juice is in the saucepan.
Gently heat the liquid over a medium-low heat.
Once warmed, stir through the lemon juice and serve.
Blueberry and mint mocktail
Serves 4
Ingredients:
– 2 cups (300g) of frozen or fresh berries
– 1 bunch of mint, plus additional to serve
– Juice from 1 lemon
– 2 cups of ice, plus additional to serve
– Sparkling water to serve
Method:
Combine berries, mint, lemon juice and crushed ice in a food processor.
To serve, place ice cubes and a sprig of mint in a glass. Pour over berry mixture and top with sparkling water.