Jump to: Greek salad | Mackerel and rye Crisps | Open-faced steak sandwich | Ploughman's lunchbox | Ham and Mustard Sandwich
Lunch is possibly the most common meal people tend not to prep for. It always feels a bit easier to pop out to the shop or a cafe to get food on the go.
But in the long run, this may not be the best thing for our health, and prepping your own lunches may be a positive change for your health and your wallet.
Our nutritionists have put together a selection of five quick-to-prepare, delicious, and healthy recipes you can make any day of the week. Some are more suited to weekends, while others will fit perfectly into your working schedule.
At Second Nature, we believe healthy living should be easy. If you'd like to learn how to make cooking healthy meals quick and pain-free, you can try our programme and pay what you like for the first 14 days.
All you need to do to start is take our health quiz here.
Now, to the good stuff.
1) Greek salad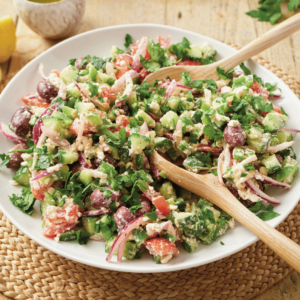 Prep and cooking time: 10mins
Serves: 2
Ingredients
1 medium cucumber, diced
4 ripe tomatoes, diced
1 green pepper, diced
1 small red onion, finely sliced
100g kalamata olives, pitted
1 tsp dried oregano
100g Greek feta cheese
Method
Wash and prep the vegetables.
Place the cucumber, tomato, green pepper, red onion, olives, and dried oregano in a bowl, and season with salt and pepper.
Dress with 3-4 tbsp of the Second Nature lemon dressing and mix gently with tongs or salad servers.
Crumble the feta on top.
Serve with extra dressing on the side.
Second Nature special tip:

Be sure to pair this salad with an additional source of protein such as chicken, tofu, halloumi, or grilled fish.
2) Mackerel and rye crisps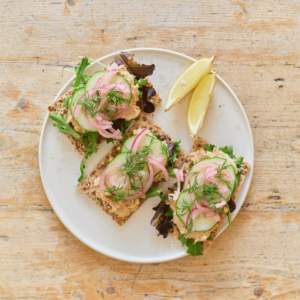 Prep and cooking time: 15mins
Serves: 2
Ingredients
1 red onion, thinly sliced
30-50ml apple cider vinegar
2 smoked mackerel fillets, flaked
¼ tsp ground cayenne pepper
40g Philadelphia cream cheese
½ lemon, juiced and zested
6 rye crisps
2 tbsp fresh dill, roughly chopped
½ cucumber, sliced
1 handful mixed lettuce
Method
In a shallow bowl, add the red onion and cover with apple cider vinegar. Leave this to pickle while you prepare your mackerel.
In a medium-sized mixing bowl, combine the smoked mackerel, cayenne, cream cheese, lemon juice, and lemon zest. Mix well to combine, and season with salt and pepper.
Arrange your rye crisps with the mixed lettuce, cucumber, mackerel, and pickled onion, and top with fresh dill.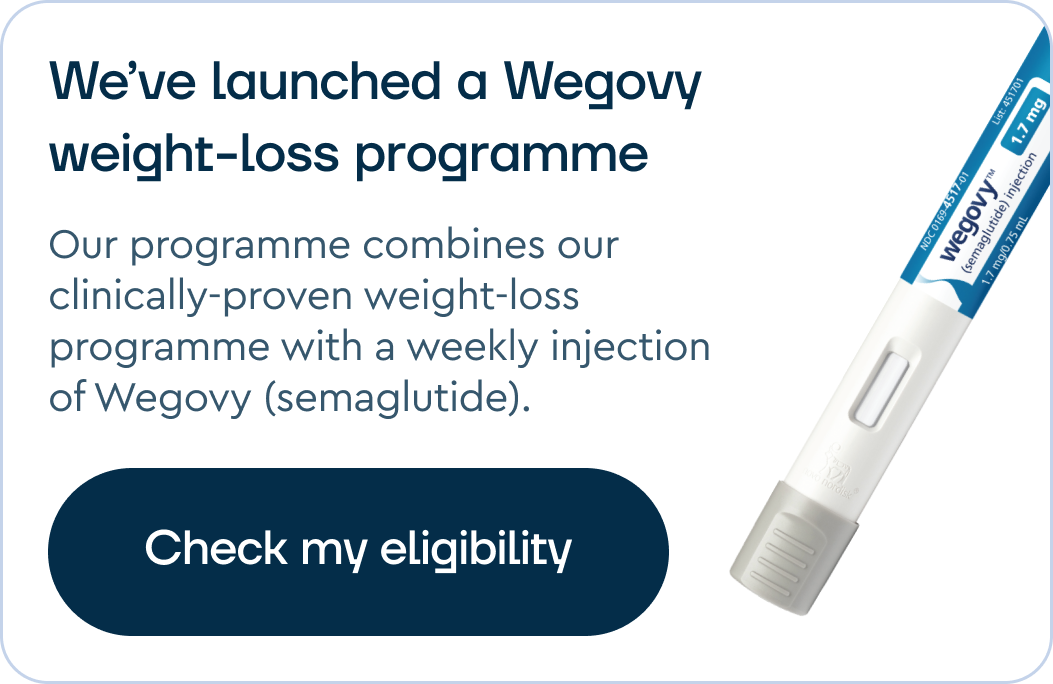 3) Open-face steak sandwich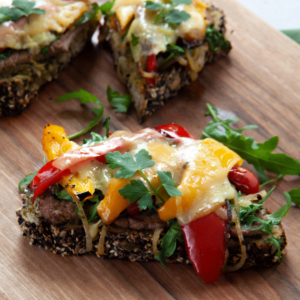 Prep and cooking time: 20mins
Serves: 2
Ingredients
1 tbsp extra virgin olive oil
1 small red pepper, sliced
1 small yellow or orange pepper, sliced
1 brown onion, thinly sliced
175g (2) minute steaks
½ tbsp butter
2 slices wholegrain, seeded or sourdough bread
1 tbsp pesto
1 large handful rocket
1 Cheddar cheese slice
Method
Preheat the oven to grill.
Place the peppers and onion onto an ovenproof baking tray and cover with ½ tbsp of olive oil, salt, and pepper. Grill for 5-8mins, or until lightly browned and softened. Stir every few minutes to prevent burning.
Heat the other ½ tbsp of oil in a non-stick frying pan over high heat. Fry the steaks for 30-45secs on each side.
Move the cooked peppers and onions to one side of the baking tray and place the bread down. Spread butter and pesto evenly over the 2 slices of bread. Cover the bread evenly with the rocket, peppers, onions, steak, and half a slice of cheese each.
Pop the sandwiches back under the grill for 2mins, or until the cheese is melted.
Serve with a side salad of your choice.
4) Ploughman's lunchbox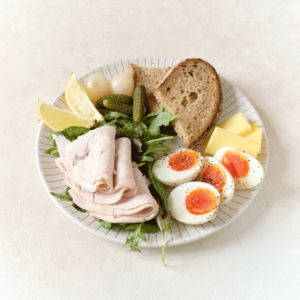 Prep and cooking time: 15mins
Serves: 1
Ingredients
2 hard-boiled eggs, boiled, peeled, and halved
3 slices turkey
20g mature Cheddar
3-4 cornichon pickles
1-2 pickled onions
1 handful mixed salad leaves
1 slice wholegrain bread
1-2 lemon wedges
1 tbsp whole egg mayo (optional)
Method
Pre-boil the eggs, cut in half, and season with salt and pepper.
Add the turkey, cheese, pickles, salad leaves, bread, and lemon to a large plate and enjoy!
If you're eating this the next day from a lunch box and want the bread to stay extra fresh, wrap it in foil or baking paper and keep it separate from the rest of the ingredients.
5) Ham and mustard sandwich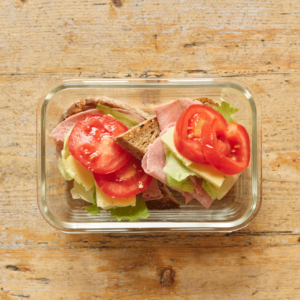 Prep and cooking time: 10mins
Serves: 1
Ingredients
1 or 2 slices of wholegrain bread
50g ham, sliced or shaved
40g or 2 slices of Cheddar cheese
1 tbsp whole egg mayonnaise
1 tsp wholegrain mustard
1 large handful iceberg lettuce
½ tomato, sliced
Method
Combine the mayonnaise and mustard in a small bowl. Spread on a slice of fresh or toasted bread.
Tear up the lettuce leaves and place on top of the bread, followed by the sliced tomatoes. Season the tomatoes with salt and pepper, and place the sliced cheese on top. Drape the ham over top.
Second Nature special tip:

Add more ham or another protein source, like sliced chicken, tuna, or tofu, if you want to ensure you feel full until your next meal.
Click here if you'd like an NHS-trusted meal plan from Second Nature.