Jump to: Yoghurt bowl | Overnight oats | Snickers smoothie | Chia pudding with mango | Bircher muesli
We've all heard the old saying 'breakfast is the most important meal of the day', and while a healthy breakfast can set our body up in a positive way, both physically and mentally, this saying might not necessarily be true as all of our meals can hold equal importance.
The issue often comes down to time. How can you have a healthy breakfast when you need to get ready for work, feed the kids, or walk the dog in the precious hours before you start your working day?
Breakfast doesn't have to be a chore
Our in-house nutritionists and dietitians have developed 5 quick, delicious, and healthy breakfast recipes you can make any day of the week in under 10-minutes. They're packed with everything your body needs to start the day.
At Second Nature, we believe healthy living should be easy. If you'd like to learn how to make cooking healthy meals quick and pain-free, you can try our programme and pay what you like for the first 14 days. All you need to do to start is take our health quiz here.
Now, to the good stuff.
1) Yoghurt bowl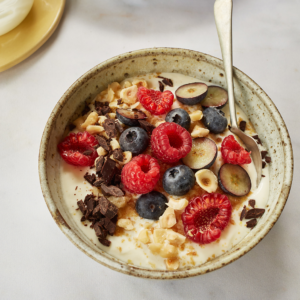 Prep time: 5mins
Serves: 1
Ingredients
150g 150g plain natural, Greek yoghurt, or yoghurt alternative
1 medium handful berries, fresh or frozen (defrosted)
1 tbsp ground flaxseed
1 tbsp 90% dark chocolate, finely chopped
1 ½ tbsp hazelnuts, roughly chopped
Method
Place the yoghurt in a bowl.
Add the toppings.
Enjoy.
Second Nature special tip:

Bring this breakfast in a container from home and enjoy it at work, or pick up the ingredients on the way. Turn this recipe into yoghurt bark by spreading it on baking paper and placing it in the freezer until hardened.
2) Overnight oats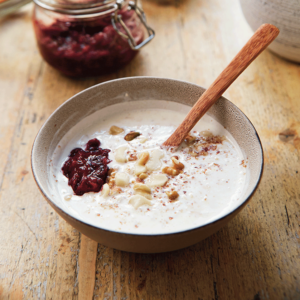 Prep time: 2mins
Serves: 1
Ingredients
40g rolled oats
100g plain natural or Greek yoghurt
100ml milk
1 small handful nuts (optional)
1 handful berries or 1-2 tbsp stewed fruit (optional)
1-2 tsp milled flaxseed (optional)
1 tsp ground cinnamon (optional)
Method
Combine the rolled oats, yoghurt, milk, and a small pinch of salt in a bowl. Stir well to combine.
Cover and put in the fridge overnight.
In the morning, top with your favourite choice of toppings, such as nuts, milled flaxseed, berries, stewed fruit and/or ground cinnamon.
Second Nature special tip
Depending on how hungry you feel in the mornings, you can either enjoy a full portion, or have half and bulk it out with extra nuts, yoghurt or fruit.
Want to make losing weight feel easier?
Second Nature uses science to help you make healthy choices, ensuring they stick in the long run. Join the 150,000 people on a Second Nature journey today by taking our quiz. We use your quiz answers to tailor our advice and support on the programme, to ensure you lose weight and keep it off.
3) Snickers smoothie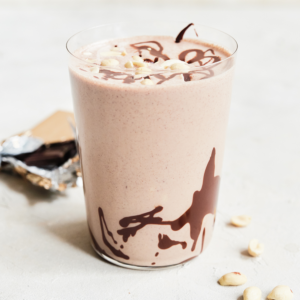 Prep and cooking time: 5mins
Serves: 1
Ingredients
200ml milk
1 peeled banana, frozen
100g plain natural or Greek yoghurt
2 tbsp peanut butter
½ tsp vanilla extract or paste
2 tsp cocoa powder
5g (or 2 small squares) dark chocolate, melted
Method
Place all ingredients in the order they are listed in a blender, except for the chocolate.
Screw the lid on tight and blend until smooth.
Melt the chocolate separately in a small microwave-proof bowl or over very low heat in a non-stick saucepan. Drizzle the slightly cooled melted chocolate into the blender and blend again.
Pour the smoothie into the glass to serve.
4) Chia pudding with mango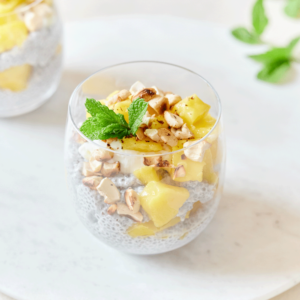 Prep and cooking time: 10mins
Serves: 2
*Freezable
Ingredients
3 tbsp chia seeds
150ml tinned coconut milk
150ml water
1 mango, diced
2 tbsp toasted cashew nuts
1 small handful fresh mint, chopped
Method
Combine the chia seeds, coconut milk, and water into a bowl and mix well. Let this sit for 15-20 minutes (or ideally overnight), until the chia seeds absorb the liquid and a pudding-like consistency is formed.
Divide the chia pudding into 2 bowls or glasses, layered with the fresh mango.
Top with the toasted cashew nuts and mint.
Second Nature special tip
Chia pudding can easily be made the night before, for a quick and minimal prep breakfast. You can swap the tinned coconut milk for 100mL of cow's milk or a plant-based option. Additionally, fresh berries or pineapple are a delicious alternative.
5) Bircher muesli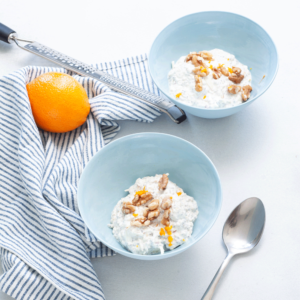 Prep and cooking time: 5mins
Serves: 2
Ingredients
1 pink lady apple
40g rolled oats
2 tbsp chia seeds
200g plain natural or Greek yoghurt
1 tsp ground cinnamon
4 tbsp water
1 large handful walnuts
1 tsp orange zest (optional)
Method
Grate the apple into a mixing bowl.
Add the oats, chia seeds, yoghurt, cinnamon, and water to the bowl and mix well.
Split the ingredients and serve topped with walnuts and optional orange zest.
Click here if you'd like an NHS-trusted meal plan from Second Nature.