Jump to: Are omelettes healthy? | Healthy omelette recipes developed by our dietitians | Mini omelettes | Classic omelette
Historically, omelettes haven't always been regarded as a healthy meal. The fear that fat and dietary cholesterol in eggs 'cause heart disease' has meant that eggs have had a bad reputation.
Click here to find out more about the connection between cholesterol and heart disease.
Are omelettes healthy? Absolutely.
We now know that the cholesterol within eggs has very little effect on the body's blood cholesterol levels. They're also a rich source of vitamin A, iodine, and selenium and their high protein and fat content will help you feel fuller and more satisfied until your next meal, which can support weight loss.
Adding additional ingredients to your omelette, such as fresh vegetables, can add more essential nutrients and fibre to your diet that help support your health in the long term.
At Second Nature, we're all about what we can add to your diet rather than what to avoid. If you'd like to join over 150,000 people like Jo – who've improved their health while finding food freedom – click here to take our health quiz.
Healthy omelette recipes developed by our dietitians
Our team of dietitians and nutritionists have developed over 400 recipes for our Second Nature app. The following omelette recipes are rich in protein, fat, essential vitamins and minerals, and can help you on your weight loss and health journey.
We've got two recipes for you:
Mini omelettes: perfect to batch cook for the lunch box or to store in the fridge for a healthy snack.
Classic omelette: this is to use as your foundation recipe; fill the omelette with whatever combination of ingredients you like. Some ideas:

Roasted courgettes, red onions, and peppers
Bacon and cheese
Spinach and ricotta
Grated carrot, spring onion, and coriander
Mushroom and cream cheese
Want to make losing weight feel easier?
Second Nature uses science to help you make healthy choices, ensuring they stick in the long run. Join the 150,000 people on a Second Nature journey today by taking our quiz. We use your quiz answers to tailor our advice and support on the programme, to ensure you lose weight and keep it off.
1) Mini omelettes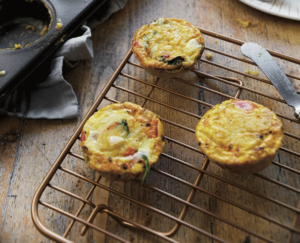 Prep and cooking time: 45mins-1hr
Serves: 4
Ingredients
2 tsp extra virgin olive oil
1 small onion, finely diced
1 red pepper, diced
1 large tomato, diced
2-3 handfuls spinach, roughly chopped
1 tbsp sun-dried tomatoes, finely sliced (optional)
8 medium or large eggs
125ml milk
1⁄2 tsp ground paprika
1⁄2 tsp chilli powder
60g Cheddar cheese, grated
Method
Preheat the oven to 160°C/140°C fan/gas mark 4.
Heat 1 tsp of the oil in a frying pan, over medium heat. Fry the onion, pepper, and tomato for 8mins, or until soft.
Add the spinach, mix well, and cook for 2mins. Remove from the heat and add the sun-dried tomatoes (if using).
Break the eggs into a large bowl. Add the milk, paprika, chilli, salt, and pepper. Mix well with a fork or whisk.
Lightly oil a 12 cup muffin tin, with the other tsp of oil. Divide the vegetables evenly between the 12 cups. Carefully fill the cups with the egg mix and top with grated cheese.
Bake for 15-20mins, until the omelettes are just cooked through and slightly browned on the top. Free recipe
2) Classic omelette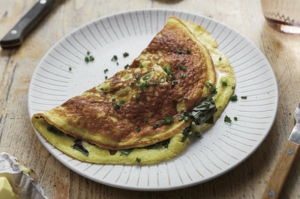 Prep and cooking time: 15mins
Serves: 1
Ingredients
2-3 medium or large eggs
2 tbsp plain natural or Greek yoghurt
1 small handful fresh or dried herbs (optional)
1-2 handfuls your choice of vegetables, diced
1 tbsp butter
40g Cheddar cheese, grated
Method
Gently whisk the eggs in a small bowl with yoghurt and a pinch of salt and pepper (and any dried herbs).
Heat a non-stick frying pan, over medium heat. If you're adding any vegetables, cook these in a drizzle of olive oil for 2-3mins to soften. Transfer to a side dish.
Add the butter to the pan. When it's melted (but not browned), pour the egg mix in. Once the mixture starts to set, tilt the pan and use a spatula to lift the edges slightly to allow the raw egg to flow underneath.
Distribute the cooked vegetables, cheese, and/or fresh herbs over the top. If your pan has a lid, put it on, but this isn't essential.
When the omelette starts to firm up around the edges, tilt the pan and fold it over in half.
Serve immediately.