Jump to: Homemade baked beans | Curried chickpea burgers | Falafel bowl | Naked tofu katsu curry | Chocolate avocado pots
Vegan diets are rising in popularity, with nearly 3 million people in the UK identifying as vegan. With concerns about the ethics of animal agriculture and the environment, more people are looking to shift towards a more plant-based diet.
However, you don't have to be vegan to enjoy plant-based delicacies. Our ethos at Second Nature is all about enjoying a healthy balanced diet that includes a wide variety of sources of protein, fat, fibre, and complex carbs.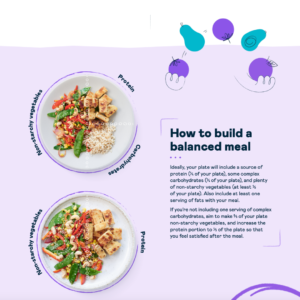 Whether you're vegan, vegetarian, pescatarian, or a meat-eater – we believe this is the best way to achieve optimum health and ensure you give your body everything it needs to thrive.
If you'd like to join people like Sarah who've joined Second Nature and changed their minds about healthy living to make weight loss feel easier, click here to take our health quiz.
Our team of registered dietitians has developed these 5 delicious and healthy vegan recipes for you to enjoy any day of the week. They're packed with protein, fibre, and healthy fats and provide a source of complex carbohydrates.
They're guaranteed to leave you feeling full and satisfied until your next meal, stabilising your blood sugar and energy levels which will help your weight loss journey in the long run.
1) Homemade baked beans
Click here to play the video.
Prep and cooking time: 40mins
Serves: 4
Ingredients
2 tbsp extra virgin olive oil
1 small onion, diced
4 garlic cloves, finely diced or minced
2 x 400g tins white beans (haricot, butter beans or cannellini), rinsed and drained
125g tomato puree
1 tbsp wholegrain mustard
500ml vegan stock
1 handful fresh thyme leaves, roughly chopped
Method
Heat the oil in a non-stick saucepan, over medium heat.
Fry the onion and garlic for 5mins, or until soft and slightly browned.
Add the beans, tomato puree, mustard, stock, and thyme. Stir well, season with salt and pepper, and bring to a boil.
Reduce heat and simmer for 30mins, or until the liquid has reduced by half. The sauce should be fairly thick.
Second Nature special tip:

Serve on toast or with tofu scrambled eggs, spinach, mushrooms, and roast tomatoes for a decadent, healthy fry-up!
2) Curried chickpea burgers
Prep and cooking time: 40mins
Serves: 4
Ingredients
40g rolled oats
1 x 400g tin chickpeas, rinsed and well-drained
1 medium carrot, grated
½ cup frozen peas, defrosted and well-drained
2 cloves garlic
1 ½ tbsp mild curry powder
1 tbsp crunchy peanut butter
½ lemon, juiced
½ tbsp extra virgin olive oil
4 slices vegan cheese
4 wholegrain bread rolls (optional)
1 head of romaine lettuce
½ cucumber, sliced
2 tomatoes, sliced
2 tsp tahini
2 tsp extra virgin olive oil
Method
Preheat the oven to 180°C/160°C fan.
In a food processor or blender, blend the oats for 30secs. Add the chickpeas, carrots, peas, whole garlic cloves, curry powder, peanut butter, salt, and pepper. Slowly add the juice from the lemon until you reach a good consistency to form patties. Be careful not to over-blend so the patties retain some texture.
Lightly oil a non-stick, ovenproof baking tray. Mould the chickpea mixture with your hands into four large burger patties.
Lightly oil the top of the burgers with the olive oil, and place in the oven for 25-30mins. Check the burgers around 15mins, and gently flip and oil the top of the patties.
Once cooked, place the cheese on top of the burger patties and melt in the oven for 2-3mins.
Combine the tahini and olive oil to make a dressing.
Cover the bun base evenly with tahini dressing, lettuce, cucumber, and tomato and place the patty on top.
Want to make losing weight feel easier?
Second Nature uses science to help you make healthy choices, ensuring they stick in the long run. Join the 150,000 people on a Second Nature journey today by taking our quiz. We use your quiz answers to tailor our advice and support on the programme, to ensure you lose weight and keep it off.
3) Falafel bowl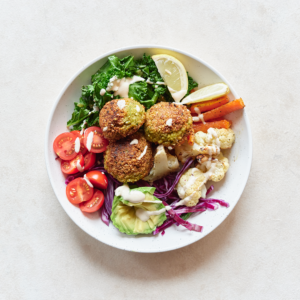 Prep and cooking time: 1hr-1hr 30mins
Serves: 4
Second Nature top tip: prepare the falafel the day before or at the weekend when you batch cook and leave them in the fridge, ready to go
Ingredients
250g dried chickpeas
2 large handfuls parsley
4 cloves garlic
½ brown onion
1 tsp ground cumin
1 tsp ground coriander
1 tsp cayenne pepper
1 tsp turmeric
½ tsp bicarbonate of soda
1 tsp toasted sesame seeds (optional)
125ml extra virgin olive oil
3 large carrots, cut into batons
1 small cauliflower, cut into florets
1 tbsp extra virgin olive oil
200-250g kale, de-stemmed and chopped
150g cherry tomatoes, halved
1/4 red cabbage
1 avocado, sliced
1 large handful parsley, roughly chopped
2 tbsp tahini
2 tbsp lemon juice
1 tbsp plant-based yoghurt
100mL water
Method
Part 1: falafel
The night before, place the chickpeas in a mixing bowl and generously cover with water. Chickpeas will double in size, so allow for enough water and an appropriate sized bowl. Allow soaking for 12-24 hours.
In a food processor or strong blender, blitz the parsley till it's finely chopped.
Put the soaked chickpeas, garlic cloves, onion and spices in the blender and blend chickpeas till they have a texture similar to couscous. Add the bicarbonate of soda and blend till combined.Once combined, place the
falafel mixture in the fridge to rest for 10-20mins
Remove the falafel mixture from the fridge, and gently form 16 disc-shaped patties. Coat them in sesame seeds if using, and place on a tray with baking paper to prevent sticking.
Place a medium-sized fry pan over a medium flame and heat the oil. Next to the stove, place some paper towel on a plate to put the falafel on after frying.
Test the heat of the oil by putting a few crumbs of the mixture in the oil. The oil is ready when bubbles form around the crumbs, and you can hear a faint sizzle.
Fry the falafels in the oil, for a few 1-2 minutes till they look to be golden brown underneath. Carefully turn them over and cook them on the other side. Remove from oil with a slotted spoon and place on a paper towel to absorb excess oil.
Part 2: the bowl
Preheat the oven to 200°C/180°C fan
Place the carrots and cauliflower on a baking tray and drizzle with 1 tbsp oil and season with salt and pepper. Bake for 30 minutes. At the 15min mark add the kale to also bake in the oven.
While the vegetables are baking, make the lemon tahini dressing by combining the tahini, lemon juice, yoghurt and water in a small bowl. Season with salt and pepper.
Arrange the bowl with cabbage, tomatoes, roasted vegetables.
4) Naked tofu katsu curry
Prep and cooking time: 25mins
Serves: 4
Ingredients
2 tbsp extra virgin olive oil
1 onion, finely diced
2 garlic cloves, finely diced or minced
5cm ginger, peeled and grated
1 tsp ground turmeric
2 tbsp mild curry powder
300ml vegan stock
125ml coconut cream
1 tsp soy sauce
1 ½ tbsp cornflour
400g extra firm tofu, cut into 'steaks'
1 ½ tbsp coconut oil
130g baby corn, sliced lengthways
130g mangetout
2 pak choi bulbs, sliced
80g brown rice
Method
Cut the tofu into slices lengthways. Place the slices on a chopping board lined with a paper towel or tea towel. Place another paper towel-lined chopping board on top and add a heavy pot or book on top of the chopping board sandwich to drain the water out of the tofu. Leave for approximately 5mins.
Add the oil to a medium-sized, non-stick saucepan. Fry the onion, ginger, and garlic, until softened. Add the curry powder and turmeric, and stir well.
Add the coconut cream, vegetable stock, soy, and a small pinch of salt and pepper.
Bring the sauce to a boil, then reduce to simmer for 15mins.
Remove the tofu from the press and cover evenly with cornflour.
Add the coconut oil to a non-stick frying pan over medium-high heat and fry the tofu, until golden brown all over.
Once the tofu is done, add the vegetables to the same pan with a splash of water to cook. If the pan dries out, add a dash more of water.
Once the sauce is finished cooking, you can blend it or forget the extra step of blending and serve as is (it's just as delicious). Serve with 1 portion of brown rice (if using), vegetables, tofu steaks, and the sauce on top.
Second Nature special tip:

If you prefer a smoother sauce, blend in a blender before serving.
5) Chocolate avocado pots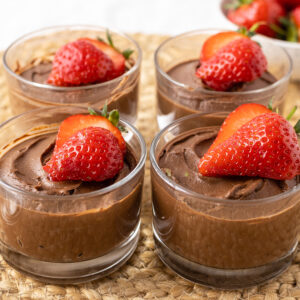 Prep and cooking time: 5mins
Serves: 2
Ingredients
1 medium avocado
20g cocoa powder
40g Medjool dates
30g almond milk (or milk of choice)
Method
Soak the dates in hot or boiling water for 15mins.
Scoop the avocado flesh out of the avocado and into a blender or jug (if using a stick blender).
Add the soaked dates, 2-3 tbsp of the water they were soaking in, and all of the remaining ingredients to the blender and blend until smooth, stopping to scrape down the sides a few times to ensure that everything is evenly blended. If needed add a little extra date water and blend again
Divide avocado mousse into 2 small jars or bowls.
Chill in the fridge for around an hour or until cooled through. Serve with fresh berries.
Second Nature special tip:

Add 1/8th tsp of mint or orange extract or ¼ tsp of ground cinnamon for a flavoured chocolate mousse. This recipe can either make 2 serves, or divided into 4 smaller serves.