It's national pizza day, and what a day to celebrate!
To celebrate today, we've compiled some of our favourite Second Nature pizza recipes. In true Second Nature style, our variations are nutritionally balanced, without skimping on taste!
Pizza traditionally contains a refined flour base, which can quickly increase the carbohydrate content of your meal. To find out more about the benefits of following a lower carbohydrate diet, read our blog. 
Our pizza varieties contain higher fibre carbohydrate bases (e.g. whole wheat tortilla, pitta, or even our cauliflower base). This means that you'll stay fuller for longer and enjoy the many other health benefits of fibre!
As part of the Second Nature programme, you can get access to all of our easy, nutritious, and delicious recipe options (like these pizzas).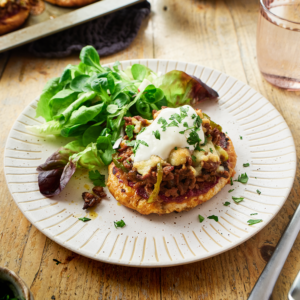 Shake up pizza night with these Middle Eastern-inspired pitta pizzas. Serve hot and fresh from the oven with a green salad on the side. If you're having these for leftovers the next day for lunch, toast a pitta bread and cover with toppings just before eating so that your pizza base stays nice and crunchy. The lamb mixture also tastes great in lettuce cups!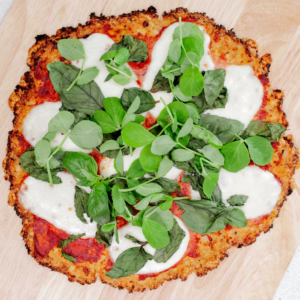 Cauliflower pizza is a great way to enjoy a lower carbohydrate pizza option. This recipe does take a little longer to prepare than our other pizzas, but it's worth the effort! It's a great way to sneak vegetables into your diet, increase your fibre intake, and reduce your carbohydrates for the day. The most important step when preparing cauliflower pizza is to make sure you squeeze every drop of water out of the roasted 'riced' cauliflower (a great way to work those arm muscles while cooking!). 
Want to make losing weight feel easier?
Second Nature uses science to help you make healthy choices, ensuring they stick in the long run. Join the 150,000 people on a Second Nature journey today by taking our quiz. We use your quiz answers to tailor our advice and support on the programme, to ensure you lose weight and keep it off.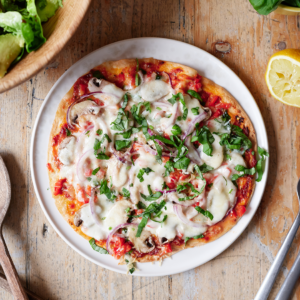 Our most recent addition to our pizza party is the unbelievably simple tortilla pizza! This is a fantastic quick lunch or dinner option, and you may already have a lot of the ingredients already. We like this vegetarian topping, because the mozzarella contains a good portion of protein for a satisfying meal. You can try other toppings like chicken slices, ham, or even pop a fried egg on top at the end!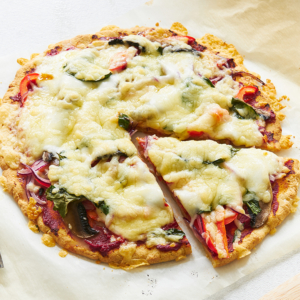 Our final pizza option is the almond flour pizza base! This one is quite a rich base, but can be a fantastic option to reduce your carbohydrate intake for the day. Although this pizza recipe is low carb, the ground almonds are energy-dense. So, we recommend bulking this recipe out by serving it with a large side salad! We've had feedback that this base can taste a little sweeter than what you'd normally expect from a pizza base, so we've added a good dose of herbs and spices to counterbalance the sweeter flavours from the almonds.