Jump to: Breakfast egg wraps | Eggs royale | Green eggs | Mexican egg bake | Scotch eggs
Eggs don't have the best reputation. Due to their high levels of dietary cholesterol, they've often been identified as a food to avoid. However, we now know that eggs 1) don't increase your blood cholesterol levels and 2) can be included as part of a healthy diet.
Click here to read more about eggs and health.
Eggs are rich in protein, vitamin A, iodine, selenium, and many more essential vitamins and minerals such as B12 and magnesium. Due to their protein and fat content, eggs can also help us feel fuller for longer, stabilising our blood sugar levels and possibly helping weight loss feel easier in the long term.
We recommended including eggs as part of a balanced diet with other sources of protein, fat, vegetables (fibre), and complex carbohydrates. By ensuring you have a wide variety of foods in your meals, you're providing your body with the best chance of absorbing all the essential nutrients it needs to thrive.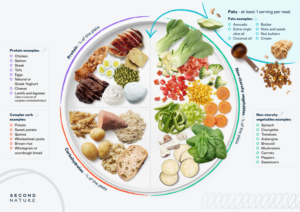 If you'd like to join people like Karen, who freed herself of 40 years of yo-yo dieting and lost 20kg by joining Second Nature, click here to take our health quiz. Otherwise, keep reading to enjoy five of our best egg recipes developed by our team of dietitians.
5 delicious and healthy egg recipes: developed by dietitians
1) Breakfast egg wraps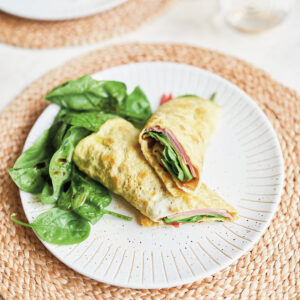 Prep and cooking time: 20mins
Serves: 2
Ingredients
1 tbsp butter
4 eggs
1 large handful spinach
1 small red pepper, finely sliced
4 slices ham or cheddar cheese
1 tbsp fresh parsley, roughly chopped
1⁄2 avocado, finely sliced (optional)
Method
Break the eggs into a bowl, season with salt and pepper, and mix well with a fork or whisk.
Heat 1⁄2 tbsp of the butter in a medium non-stick frying pan, over low heat, until just melted.
Pour half of the egg mix into the pan evenly, around 0.5cm thick. Fry for 1-2mins, then lightly lift the edges of the egg from the pan, so the egg doesn't stick. Allow the egg to cook without flipping (the colour should be pale yellow and when you lightly shake the pan, the egg shouldn't wobble)
Place the cooked egg wrap on a plate and begin to cook the other wrap.
When both wraps are cooked, fill them evenly with spinach, red pepper, ham or cheddar cheese, herbs, and the avocado (if using).
Want to make losing weight feel easier?
Second Nature uses science to help you make healthy choices, ensuring they stick in the long run. Join the 150,000 people on a Second Nature journey today by taking our quiz. We use your quiz answers to tailor our advice and support on the programme, to ensure you lose weight and keep it off.
2) Eggs royale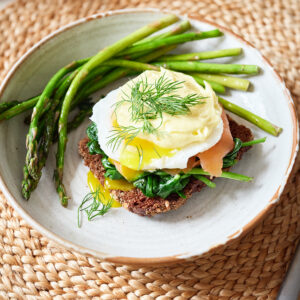 Prep and cooking time: 45mins
Serves: 6
Ingredients
170g butter
3 tbsp water
3 egg yolks
½-1 lemon, juiced
A pinch white ground pepper
6 eggs
500g asparagus spears
8 large handfuls spinach
6 slices rye, seeded or wholegrain toast
1 tsp extra virigin olive oil
200g smoked salmon
1 handful fresh dill or chives
Method
To make the hollandaise sauce, melt the butter in a small saucepan, over medium heat and set aside.
In another saucepan, add about 3cm of water and bring it to a simmer. Place a mixing bowl on top of the saucepan so the bottom of the bowl doesn't touch the water.
Add the 3tbsp of water, egg yolks, a small pinch to salt, and white pepper to the mixing bowl. Using a small hand whisk, constantly whisk the mixture until it is creamy and the whisk leaves a trail on the base of the mixing bowl. This can take roughly 5-7mins.
Take the egg mixture off the heat. While whisking, add the melted butter a few drops at a time to the egg mixture. It's best to add the butter slowly (1-2 drops at a time) otherwise the mixture will curdle. When the sauce starts to thicken, you can add the butter a little faster, but leave the whiter, milky sediment at the bottom of the butter (use that when frying the asparagus and spinach).
Add the juice of ½ a lemon to the hollandaise, and taste. Add the other half if you prefer a more lemony taste.
Prepare the rest of the meal by poaching 6 eggs. Fry the asparagus and spinach in a saucepan with the leftover butter sediment and a tsp of olive oil, salt and pepper. Toast your preferred bread.
Place the spinach on top of the toast, a slice of smoked salmon, poached egg and 1-2 tbsp of the hollandaise on top. Serve with fresh dill or chives on top and asparagus on the side.
Second Nature special tip:

This hollandaise sauce serves 6 people, you can make the hollandaise separately and reheat over a double boiler if you prefer to serve with eggs benedict, eggs royale (for 1-2 or more), and it tastes delicious with white fish!
3) Green eggs
Prep and cooking time: 15mins
Serves: 2
Ingredients
1 tbsp butter
½ tbsp extra virgin olive oil
1 small onion, diced
2 garlic cloves, minced
100g kale
100g spinach, roughly chopped
1 heaped tbsp pesto
1 tbsp za'atar spice
½ small lemon, juiced
4 eggs
30g feta
1 large handful basil, finely chopped
1 tbsp toasted pinenuts (optional)
Method
Preheat the oven to grill.
Heat the butter and oil in a medium-sized, ovenproof frying pan.
Fry the onion and garlic for 1min, or until golden and softened.
Add the kale and spinach, and stir until wilted (roughly 3-5mins).
Add the pesto, za'atar, and lemon juice, season with pepper.
Make holes in the vegetable mixture to fill with the eggs. Crack the eggs into the holes and season the eggs lightly with salt.
Sprinkle feta over the entire frying pan and pop under the grill for 5-8mins, or until the whites of the eggs are completely white.
Top with fresh basil and toasted pinenuts.
4) Mexican egg bake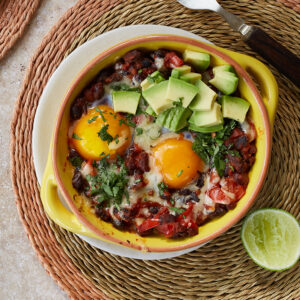 Prep and cooking time: 20mins
Serves: 2
Ingredients
1 tbsp extra virgin olive oil
2 garlic cloves, finely diced or minced
1 red pepper, diced
1 x 400g tin black beans, rinsed and drained
½ tsp chipotle chilli flakes
1 tsp smoked paprika powder
1 lime, ½ juiced, ½ sliced
2 tbsp tomato puree
2 tbsp water
100g spinach
4 eggs
30g Cheddar cheese, grated
½ avocado, diced (optional)
1 small handful coriander, roughly chopped or torn
Method
Preheat the oven to 220°C fan.
In a large, non-stick, ovenproof frying pan, heat the oil over medium heat. Fry the garlic for 30secs, or until softened. If you don't have an ovenproof pan, use a normal frying pan and set aside a small ovenproof baking dish (or two).
Add the red pepper and cook for 1-2mins.
Add the beans, chipotle, paprika, lime juice, tomato puree, water, and season with salt and pepper. Stir well and cook for 1min, or until the sauce has thickened slightly.
Add the spinach and stir for 1min, or until wilted.
If using an ovenproof frying pan, make small dents in the beans and crack the eggs into the dents. If using an ovenproof baking dish, place the cooked beans into the dish and make dents for the eggs.
Cover evenly with Cheddar and place in the oven for 5-7mins, or until the eggs and cheese have cooked. The egg whites should be white.
Serve hot, topped with optional avocado slices, lime wedges, and roughly chopped coriander.
5) Scotch eggs
Prep and cooking time: 35mins
Serves: 5
Ingredients
6 eggs
50g oats or Panko breadcrumbs
25g parmesan, grated
500g minced pork
½ tsp nutmeg
1 tsp dried thyme
Method
Preheat the oven to 200°C/180°C fan. Line a baking tray with aluminium foil and set aside.
Bring a saucepan of water to boil on medium/high heat. Once the water is boiling, use a spoon to gently place 5 eggs into the water. Boil eggs for 6 ½ minutes and then immediately place in a bowl of water and ice to cool. Peel the eggs and place aside to continue cooling.
In a shallow bowl or plate, mix together the oats and parmesan.
In a separate shallow bowl, whisk the remaining egg.
Combine the pork mince, nutmeg, and thyme in a mixing bowl, until well combined. Season generously with salt and pepper.
Divide pork mixture evenly into 5 portions (or use a digital scale to weigh 100g portions). Take one portion, flatten in your palm, place a boiled egg in the middle, and mould the pork mixture around the egg until sealed.
Roll the mince-covered egg in egg mixture to coat, and then roll in oat and parmesan mixture until completely covered. Place on the baking tray and repeat for remaining eggs.
Place the baking tray into the oven for 20-25mins, or until crumbs are lightly golden-brown and pork mince has gone white.
Serve either fresh from the oven, or refrigerate for 1-2 days and serve cold. Serve with ½ – ⅔ plate of non-starchy vegetables.