Dietitian vs. Nutritionist: The bottom line
Dietitians are the only health professionals regulated and protected by law and typically work in clinical settings. Although dietitians also work in similar areas to nutritionists, such as in government, private practice, and sports. 
Registered nutritionists can provide evidence-based advice and information about food and healthy eating. Nutritionists don't work in clinical settings and primarily have roles in government, industry, or private clinics. 
Nutritional therapists provide alternative treatment based on the idea that the body needs healing and correcting. This approach isn't seen as evidence-based.
Only dietitians and registered nutritionists are required to hold a nationally recognised degree.
Second Nature uses registered dietitians and nutritionists as health coaches to provide a cheaper, more convenient alternative to face-to-face consultations from a registered nutritionist or dietitian.
You might have been confused by seeing the different terms nutritionist, dietitian, and nutritional therapist.
When looking for a professional to help you make healthy lifestyle changes and improve your diet, it's essential to understand the difference between these titles.
The titles dietitian, nutritionist, and nutritional therapist are all used for professional purposes, but they can't be used interchangeably as they each hold very different qualifications and registrations.
This guide will explain the differences between nutrition professionals to help you make an informed decision about what is best for you.
Registered Dietitian (RD)
Dietitians are the only nutrition professionals to be governed and regulated by law.
This means that anyone who uses the dietitian title must be registered with the correct professional body and adhere to their standards. Otherwise, they will be penalised with legal action.
In the UK, The Health & Care Professions Council (HCPC) is the regulatory body with which all dietitians must be registered to practise in a clinical setting.
Dietitians provide practical guidance to healthy and sick individuals to help people make appropriate, healthy choices.
They often work as part of a clinical team (including doctors, nurses, physiotherapists etc.) to treat complex health conditions such as diabetes, allergies, IBS, eating disorders, chronic fatigue, malnutrition, kidney failure and bowel disorders.
Other areas that dietitians often work in include the food industry, workplace, catering, education, sport and the media, and public health relations.
To become a dietitian in the UK, the minimum requirement is a bachelor's degree (BSc Hons) in Dietetics or a related science degree with a postgraduate diploma or master's degree in Dietetics.
Dietetic degrees combine biochemistry, physiology, applied sciences, and research methods relating to nutrition science.
All degrees have a mandatory supervised placement within the NHS, which means that most dietitians have had experience in a clinical setting.
After completing the degree and all placements, individuals can apply for registration with the HCPC.
You can look up a dietitian and check their registration here.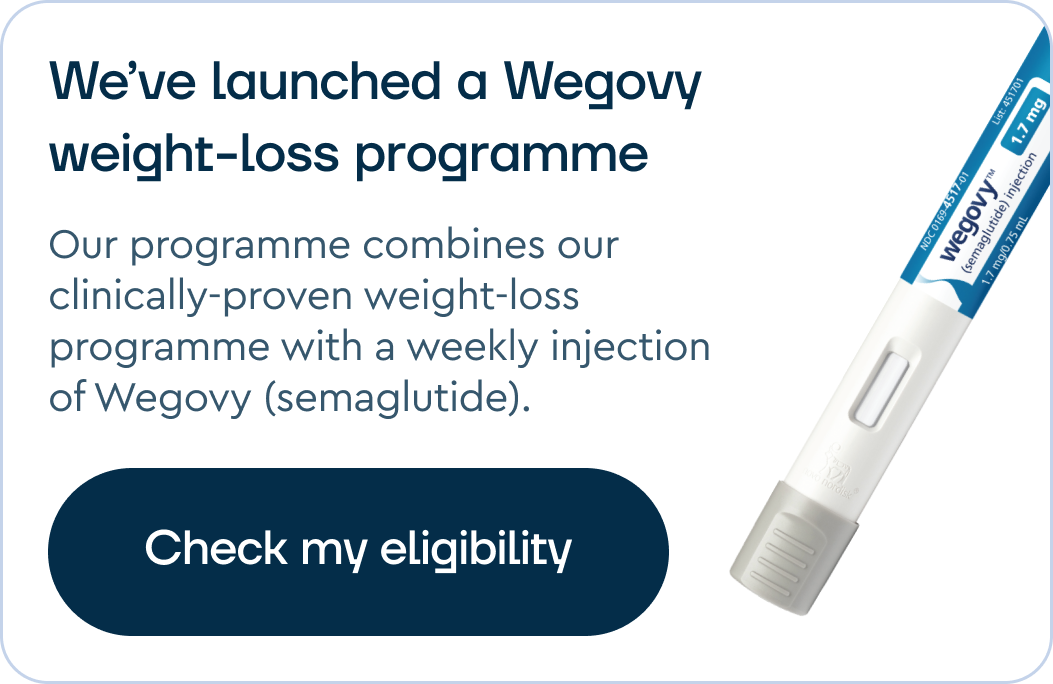 Registered Nutritionist (ANutr or RNutr)
Registered nutritionists are qualified to provide information and nutrition advice about food and eating habits but not about special diets for medical conditions.
Those with a medical condition could see a registered nutritionist as part of a medical team (including GPs, doctors, nurses etc.).
Unfortunately, anyone can call themselves a nutritionist, but only registered nutritionists have met the strict standards of professional education in nutrition.
The Association for Nutrition (AfN) is the UK's professional body for registration. Only individuals registered with the AfN hold the title Registered Nutritionist (ANutr or RNutr).
Registration requires a minimum of an undergraduate (BSc Hons) or postgraduate degree in Nutrition or a related discipline, such as Public Health Nutrition or Sports Nutrition.
The ANutr title stands for 'Registered Associate Nutritionist', whereas the RNutr stands for 'Registered Nutritionist'. The only difference is that those with RNutr status have had a minimum of 3 years of relevant professional experience.
All AfN registrants are required to keep up-to-date with the latest nutrition science through Continuing Professional Development (CPD).
Registered nutritionists often work as freelance consultants. There are some nutritionists employed within the NHS working alongside Registered Dietitians.
They also work in many non-clinical settings such as government, food service, research, teaching, sports, international work in developing countries, media and communications, animal nutrition, and NGOs.
You can look up a nutritionist and check their registration here.
Nutritional Therapist
Nutritional therapists practice complementary medicine, which is not valid as a treatment in conventional medicine. They provide recommendations for diet and lifestyle to reduce or prevent health issues and illnesses.
They work on the belief that the body has underlying nutritional and biochemical imbalances that lead to poor health, including mental health problems.
This approach is called functional medicine and is entirely different from conventional medicine.
Nutritional therapists usually provide private consultations. Treatment methods can include high-dose vitamins, detoxing, food avoidance, and supplements (non-NHS approved), for which currently there's little scientific evidence.
The Institute of Optimum Nutrition (ION) provides training for nutritional therapists. The ION awards 'Foundation Degree' status to those who complete specific courses; however, these are not university degrees.
Nutritional therapists, unregistered nutritionists, 'diet experts', and 'nutrition experts' are not eligible to register with the HCPC or the AfN. Nutritional therapists can register with the Complementary and Natural Healthcare Council.
Recently, the profession of nutritional therapy has evolved and is moving toward evidence-based practice. For example, the University of Worcester now offers university-accredited degrees to become a nutritional therapist.
Nutritional therapists can now register with the British Association for Nutrition and Lifestyle Medicine (BANT) which aims to support nutritional therapists in providing evidence-based practice.
So, suppose you're keen to seek the support of a nutritional therapist. In that case, we'd recommend choosing one affiliated with BANT and with a university-accredited degree, as they're more likely to follow evidence-based practice.
Key differences
To highlight and summarise the key differences between dietitians, registered nutritionists, and nutritional therapists: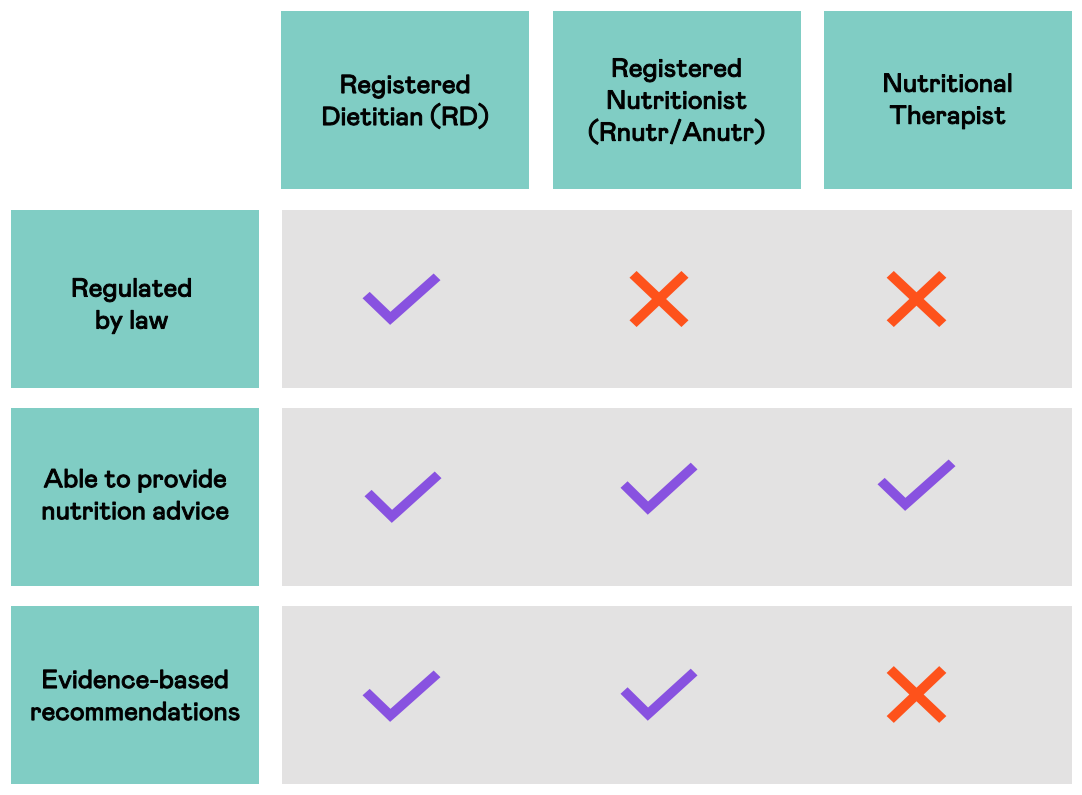 Alternative option
If you want to make healthy changes and lose some weight, seeking the help of a nutrition professional is a great way to do so.
The challenge with seeing a nutritionist professional is that you often have to take a few hours out of your week to travel to and from the session and have the consultation.
There are also travelling expenses associated with face-to-face consultations.
Currently, most in-face appointments have been shifted to online but might still cost the same amount. On top of this, you're limited to your appointment slot rather than getting support as and when you need it.
For this reason, many people prefer the convenience of an online programme, where they can communicate with their nutritionist or dietitian around their busy lifestyle.
Second Nature is a digital programme that helps you to lose weight and make sustainable lifestyle changes. Second Nature combines support from registered nutritionists and dietitians with the convenience of an app-based programme.
Many people are more familiar with Weight Watchers or Slimming World, so we created a guide comparing their digital programmes with Second Nature to help you decide what's best for you.
Second Nature tackles weight loss by focusing on your habits and changing your behaviours. This means that any healthy lifestyle changes you make will be sustainable and last in the long term.
Second Nature's approach: Indulgent but supports weight loss 
In 2022, the NHS published data in the British Medical Journal from the National Weight Management and Diabetes Prevention programme, where five providers delivered weight loss services in the UK.
The results showed that after 12 months, Second Nature was more than twice as effective as the four other providers.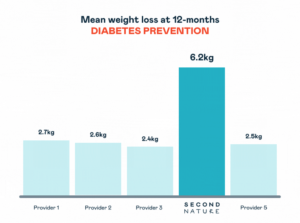 How does Second Nature's approach work?
We approach nutrition and healthy eating differently. We don't count calories, track macros, weigh food, or assign strict targets on your intake.
We provide you with evidence-based guidance on a balanced diet and teach you to understand what your physical and emotional drivers for eating are to reach your weight loss goals.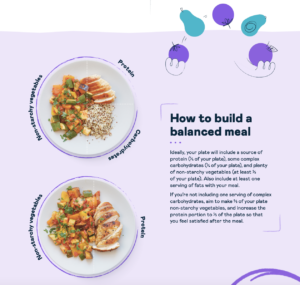 We also provide tools, such as our hunger scale and mindful eating techniques, that help you tune into your physical hunger cues and manage your food choices.
Alongside this, we help you build healthy habits that you can enjoy for a lifetime to help you maintain a healthy weight.
Our feedback inbox is filled with people like Jo, who lost over eight stone to achieve a healthy body weight on Second Nature after following our nutrition guidelines and receiving the support of our app and health coaches.
The difference is that members of Second Nature learn to love food again. They're no longer restricted. They're liberated.
If you'd like to join over 150,000 others who've joined Second Nature, lost weight and kept it off, then click here to take our health quiz.
Pricing
Weekly face-to-face consultations with a dietitian, nutritionist, or nutritional therapist at a clinic can be very expensive (£40-£100/hour).
To compare the prices of visiting any private nutrition clinic with the Second Nature programme, we have added a column representing this (Weekly Nutritionist).
| | | |
| --- | --- | --- |
| | Weekly Nutritionist | Second Nature |
| Price | £300 / month | £40 / month |