Jump to: Irish stew | Roasted cauliflower and fennel soup | Aubergine parmigiana | Provençal beef casserole | Pumpkin pie
As we move from cold salads to warm stews, the fall provides an opportunity to expand on your current cooking routines and look to incorporate different seasonal foods into your meals.
With the days getting colder and shorter, many people find they lack the motivation to get into the kitchen and cook. Our fall recipes have been designed for batch cooking so you can spend less time in the kitchen and more time doing the things you love.
All our recipes follow the simple principles of being based on whole foods, are rich in protein, fat, fibre, and include a source of complex carbohydrates. This combination will leave you feeling comfortably full and satisfied and help to stabilise your energy levels throughout the day.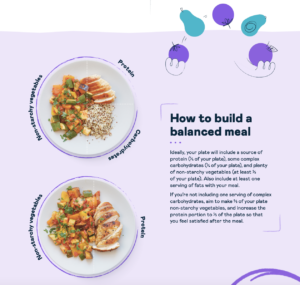 You can join people like Rachel, who feels like she's treating herself daily with our delicious and healthy recipes that help make weight loss feel easier. All you need to do to start is click here to take our health quiz.
Now, to the good stuff.
5 healthy recipes for the fall: developed by dietitians
1) Irish stew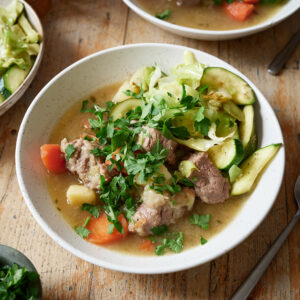 Prep and cooking time: 2hrs
Serves: 4
Ingredients
2 tbsp extra virgin olive oil
2 small/medium brown onions, sliced into rings
3 celery stalks, sliced
400g Maris Piper potatoes
700g lamb neck, sliced into 5cm rounds
3 sprigs fresh thyme
2 dried bay leaves
800ml cold water
4 large carrots, peeled and cut into large chunks
1 large handful fresh parsley, roughly chopped
2 small sweetheart cabbages, sliced
2 large courgettes, sliced
1 tbsp butter
2 garlic cloves, finely diced or crushed
Method
Preheat the oven to 180°C/160°C fan/gas mark 4.
Heat the oil in a large casserole dish, over medium heat.
Fry the onions, until soft and golden – be careful not to brown them. Remove from the dish and set aside in a small bowl.
Line the base of the dish with 100g of thinly sliced potato, add the onion on top. Cut the other 300g of potato into large chunks and set aside. Add the meat, thyme, bay leaves, and cold water to the dish, season generously with salt and pepper, and bring to a simmer. Cover and transfer to the oven to cook for 1hr 40mins.
After 1hr 40mins, add the carrots, celery, and the 300g of remaining potato chunks, and stir lightly. Leave the lid slightly ajar and cook for 20mins. The meat should now be very tender and the sliced potatoes that covered the base of the dish should be disintegrated to thicken the sauce of the stew.
Prepare your additional vegetable sides. We suggest cabbage and courgette fried in garlic and butter.
Enjoy with a generous helping of fresh parsley on top!
Second Nature special tip:

Make this stew the night before, and skim off a small bit of the fat on top (not too much as a lot of the flavour of the stew is from the slow-cooked lamb fat). Serve reheated for extra flavour!
Want to make losing weight feel easier?
Second Nature uses science to help you make healthy choices, ensuring they stick in the long run. Join the 150,000 people on a Second Nature journey today by taking our quiz. We use your quiz answers to tailor our advice and support on the programme, to ensure you lose weight and keep it off.
2) Roasted cauliflower and fennel soup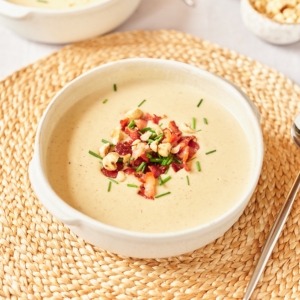 Prep and cooking time: 45mins-50mins
Serves: 4
Ingredients
1 large head of cauliflower, cut into small florets
3 tbsp extra virgin olive oil
1 small fennel bulb, roughly chopped
1 shallot, chopped
2 garlic cloves, finely diced or minced
150mL water
800mL chicken stock
300mL single cream
2 bay leaves
150g bacon, diced
60g hazelnuts
1 small handful of chives, sliced
Method
Preheat the oven to 200°C/180°C fan. Toss cauliflower in 2 tbsp oil on a baking sheet. Season with salt and pepper. Roast the cauliflower for 30–35 minutes (tossing halfway) or until florets are browned all over and tender.
While the cauliflower is roasting, add 1 tbsp olive oil to a large saucepan, over medium heat.
Fry the shallot, fennel and garlic until softened (5-8mins). Add 150ml water and cook until mostly evaporated (around 5mins).
Add roasted cauliflower, stock, cream, and bay leaves; season lightly with salt and pepper.
Bring to a boil, reduce heat, and simmer until cauliflower is very tender, 20 minutes.
While the soup is simmering, fry the bacon in a small non-stick frying pan and set aside once golden brown. No need to add any oil as the bacon will release oils.
In the same pan fry the hazelnuts until golden and roasted. Set aside to cool and then roughly chop. Remove the bay leaves from the soup and discard.
Allow the cauliflower mixture to cool slightly before using a blender or stick/immersion blender until a smooth consistency is formed.
Serve topped with bacon and hazelnuts.
3) Aubergine parmigiana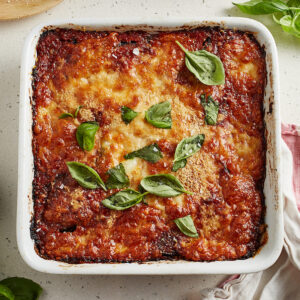 Prep and cooking time: 50mins-1hr
Serves: 4
Ingredients
4 tbsp extra virgin olive oil
3 large aubergines, sliced lengthways
½ tbsp butter
1 small red onion, finely diced
2 garlic cloves, finely diced or minced
1 ½ tsp dried oregano
1 x 400g tin chopped tomatoes
30ml water
1 large handful fresh basil, roughly chopped
125g mozzarella, thinly sliced
60g Parmesan or vegetarian hard cheese, grated
Method
Preheat the oven to 200°C/180°C fan/gas mark 6.
Heat 1 tbsp oil in a large non-stick frying pan, over medium heat.
Fry the aubergine slices on both sides, in batches with 1 tbsp oil, salt, and pepper until lightly coloured (no longer white) and softened. If the slices start to stick or look like they need more moisture, add a few dashes of water or additional olive oil.
Lightly butter an ovenproof baking dish and layer the aubergine slices into the dish.
Heat the remaining 1 tbsp oil in a small saucepan, over medium heat. Fry the onion and garlic, until softened.
Add the tomatoes and water and reduce the heat to simmer for 15-20mins. Turn off the heat and stir in the basil and oregano.
Pour some of the tomato sauce on the base of the pan and then over the aubergines, place the sliced mozzarella on top and sprinkle the parmesan.
Place in the oven for 25-30 minutes or until golden.
4) Provençal beef casserole
Prep and cooking time: 1hr 30mins
Serves: 4
Ingredients
1 tbsp extra virgin olive oil
1 large onion, diced
2 carrots, diced
2 celery sticks, diced
4 garlic cloves, finely diced or minced
700g stewing beef, cubed
250g button mushrooms, halved
250ml red wine
250ml beef stock
2 tbsp tomato puree
3 orange zest strips
1 tbsp fresh thyme leaves
Method
Preheat the oven to 160°C/140°C fan.
Heat the oil in a deep casserole dish, over high heat. Add the onions, carrots, celery, and garlic. Cook for 5mins, or until softened.
Add the beef and fry on all sides, until browned.
Stir in the mushrooms, wine, stock, tomato puree, orange zest, thyme leaves, and a pinch of salt and pepper. Bring it to a boil.
Cover with a lid and cook in the oven until the meat is tender (minimum 45mins, up to 2hrs). You can alternatively simmer the casserole on the stove for a similar amount of time.
Check 20mins into the cooking time to make sure that the stew is simmering, and adjust the heat up or down as necessary.
Serve with a bowl of steamed vegetables.
5) Pumpkin pie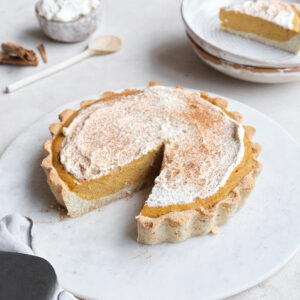 Prep and cooking time: 1hr 15mins
Serves: 8
Ingredients
50g ground almonds
50g coconut flour
2 tbsp ground flaxseed
2 tbsp butter or coconut oil, melted and cooled
4 large eggs
5 tbsp cold water
¼ tsp vanilla extract
2 large (125g) pink lady apples, finely diced
½ small lemon, juiced
150ml evaporated milk
425g tin pumpkin puree
2 tbsp maple syrup (optional)
1 tsp vanilla paste
1 tsp cinnamon
½ tsp ground ginger
¼-⅛ tsp cloves
Method
Preheat the oven to 180°C (not fan).
Rub a knob of butter all over the inside of a (23-25cm) tart tin that has a removable bottom. It's best to spread the base about ½ – 1cm thick so it crisps and turns golden brown.
Mix the almonds, coconut flour, flaxseed, melted butter, 2 eggs, water, salt, and vanilla together until well combined.
Press the dough into the tart tin and place in the oven to bake for 10-12mins or until golden. Set aside and allow to cool.
While the tart is baking make the puree.
Heat a non-stick saucepan, over medium heat. Add the diced apple, lemon juice and a dash of water. Keep stirring until the apple starts to turn more 'translucent'. If the pot starts to dry out and the apples start browning, add another dash of water until the apples turn translucent. This can take 8-10mins.
Add the apples, evaporated milk, pumpkin puree, maple syrup (if using), vanilla, spices, and a pinch of salt to a blender, and blend until smooth.
Pour the pumpkin mixture into a bowl. Ensure the apples haven't heated the mixture too much, if so allow it to cool for a few minutes. Beat the 2 remaining eggs in a small bowl, and then mix into the apple mixture, stir until combined.
Add the pumpkin mixture to the cooled tart base. Bake in the oven for 35-40mins. The pumpkin filling will continue to cook once out of the oven. You want to have a little bit of wobble to the filling, and no 'cracks'. Cracks mean the eggs have overcooked.
Allow to cool before removing from the tart tin. Serve with whipped cream and a small sprinkle of cinnamon, if desired.