Omada and Second Nature are digital lifestyle change programs that empower people to achieve their goals through sustainable lifestyle change. With both programs, you can access a qualified coach and online community.
Second Nature and Omada approach nutrition and weight loss in similar ways, so choosing the programme you choose to help you lose weight are up to you.
Both programs can be used to help prevent or manage type 2 diabetes.
Omada's coaches are trained to meet the needs of the participants and by Omada's best practices.
The individual program will depend on the exact training of coaches, with some coaches trained to meet the Diabetes Prevention Recognition Program (DPRP) guidelines or are Certified Diabetes Educators (CDEs).
Second Nature coaches are qualified (and UK-registered) nutrition specialists. Having a coach with expertise in nutrition to support and guide you makes achieving your weight goals easier.
We're going to be biased and recommend giving Second Nature a try, as our programme gives you access to a UK-registered nutritionist or dietitian, which may help accelerate your progress.
You can also join Second Nature immediately if you want to join independently without accessing via your health insurance, whereas you'll need to make an application to join Omada.
Second Nature also has evidence from research published in the BMJ showing that it's more than twice as effective at supporting weight loss than four other providers in the UK's National Diabetes Prevention Programme.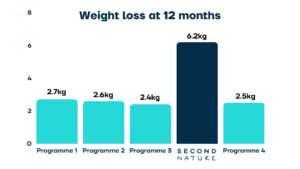 If you'd like to join over 150,000 others who've completed the Second Nature programme and found a way to lose weight and keep it off, click here to take our health quiz.
Alternatively, you might like to read more about the critical differences between Omada and Second Nature to help you make up your mind.
Reviews
Usually, our guides use Trustpilot scores to indicate customer satisfaction based on consumer reviews and ratings of each program.
Given that Omada isn't available on TrustPilot, we recommend checking out Facebook reviews for both Second Nature and Omada.
Second Nature has over 3,000 reviews on Trustpilot and has an average rating of 4.8 out of 5.
Signing up
Omada
Second Nature

Money back guarantee

We recommend reaching out to customer support if you're a self-paying member.

Full refund if cancelled within 14 days. After this point, any charges non-refundable.

Clear breakdown of costs

✓
✓

Clear cancellation policy

✓


(Contact support)

✓

Length of program

Core: 16 weeks
Maintenance: 8-month program

Ongoing subscription (minimum 12 weeks)

Easy to cancel

✓
✓

Refer-a-friend scheme

✗

✓

Easy to include family

✓
✓
Want to make losing weight feel easier?
Second Nature uses science to help you make healthy choices, ensuring they stick in the long run. Join the 150,000 people on a Second Nature journey today by taking our quiz. We use your quiz answers to tailor our advice and support on the programme, to ensure you lose weight and keep it off.
Nutrition
| | | |
| --- | --- | --- |
| | Omada | Second Nature |
| Dietary approach | Lower carb | Lower carb |
| Caters to vegetarian | ✓ | ✓ |
| Caters to vegan | ✓ | ✓ |
| Vegetarian/vegan recipe section | ✓ | ✓ |
Support
Omada
Second Nature

Tailors the plan around diabetes

✓
✓

Tailors the plan around other health issues

✓
✓

Face-to-face meetings

✗

✗

Access to a Certified Diabetes Educator (CDE)

✓


(There's no guarantee that your coach will be a CDE but some coaches are)

✗

Access to qualified nutrition specialist

✗

✓</span style="color: #000000;">*
*Second Nature coaches are all UK-registered dietitians or nutritionists. This means they have completed university-accredited degrees to gain this professional title.
However, coaches are not registered in the US, so they don't meet the regulatory requirements to be considered US-registered dietitians or nutritionists.
Program features
| | | |
| --- | --- | --- |
| | Omada | Second Nature |
| App | ✓ | ✓ |
| Tracks sleep | ✓ | ✓ |
| Tracks steps | ✓ | ✓ |
| Tracks exercise | ✓ | ✓ |
| Tracks water intake | ✓ | ✓ |
| Tracks custom habits | ✓ | ✓ |
| Education of nutrition science | ✓ | ✓ |
| Requires calorie counting | ✗ | ✗ |
| Online community (peer support group) | ✓ | ✓ |
Pricing
When programs provide price plans in different formats, it can be hard to compare prices accurately.
To make this easier, we have calculated the price of monthly basic price plans on each program to show you how costs compare (as of April 2021). All admin fees are included in these prices.
Both programs include access to a coach, though qualifications vary. Similarly, with both programs, you have the same coach throughout the whole Second Nature and Omada programs who you can build a relationship with.
The pricing below is for joining both programs privately.
Another option to get support with your diet would be to see a registered dietitian.
Weekly face-to-face sessions with a registered dietitian or nutritionist can be expensive ($70-100 per session). We have added a column representing this to compare costs, labelled weekly registered dietitian (WRD).
Monthly digital subscriptions:
| | | | |
| --- | --- | --- | --- |
| | Omada | Second Nature | WRD |
| Access to a qualified nutrition specialist | Certifications are dependent on the individual program | ✓ | ✓ |
| The same, personal coach throughout the program | ✓ | ✓ | ✓ |
| Price | $140 / month | $60 / month | $350 / month |
Omada primarily offers health plans for employees and can be billed directly through your medical insurance.
You need to apply if you'd like to pay for the program independently. Omada will then decide whether you'll be accepted.
The program costs $140 per month for the first four months and then $20 per month thereafter.
Take home message
Omada and Second Nature focus on behaviour science and data to help you build healthy habits that stick.
Both provide you with an education in nutrition science, allowing you to make informed decisions and develop a healthy long-term relationship with food.
When choosing a weight management program, it's essential to consider what would fit into your lifestyle and help you achieve your goals.
Online programs are a better option for those who find face-to-face meetings uncomfortable or inconvenient. Omada and Second Nature are both fully digital.
You'll join a community of like-minded individuals in both programs who will accompany you through the program. This can help you to feel connected and motivated throughout your journey.
The goal of both programs is to help you make small changes that will significantly impact your health and help reduce your risk for chronic diseases, such as type 2 diabetes and cardiovascular disease.
Customer support is available at both Omada and Second Nature.