The healthiest options at Pret a Manger will be those lower in refined carbohydrates (like bread) and higher in protein, vegetables, and whole grains.
Here are our favourite healthy options for you to choose from at Pret a Manger as selected by our team of registered dietitians and nutritionists.
Order without adjustments
These options can be ordered as they come (no adjustments needed) and enjoyed as part of a healthy diet. 
Breakfast
Ham and spinach omelette 

Mushroom, cheddar, and tomato omelette (v)
Soups 
Miso soup 

Pea and mint soup (v)

Pret's Chicken Katsu soup 

Souper Tomato (v)

Red Thai vegetable soup (v)
Salads and Protein Pots
Italian chicken salad

Smoked salmon protein box

Tuna nicoise salad

Egg and spinach protein pot

Chicken, pesto, mozzarella salad

Crayfish and avocado salad

Vegan Italian salad bowl (v)

Roast beets, squash, and feta veggie box (v)

Mexican-inspired salad bowl (v)
Enjoy occasionally 
These are more indulgent options that can be enjoyed as part of a balanced diet, just less often:
All sandwiches (including toasted), baguettes, and wraps 

Hot pastries 

All hot brioche and rolls

Vegan plain or chocolate croissant 

Porridge
Note: Porridge is a healthy, filling breakfast option but is typically high in carbohydrates, so it may not be suitable for everyone, especially if you're following a lower-carb diet.
It's perfectly ok to indulge and enjoy pastries, cakes, and cookies now and again. If you do choose to indulge, enjoy mindfully! Try to pair these options with something high in protein (e.g. an omelette) to help you stay fuller for longer.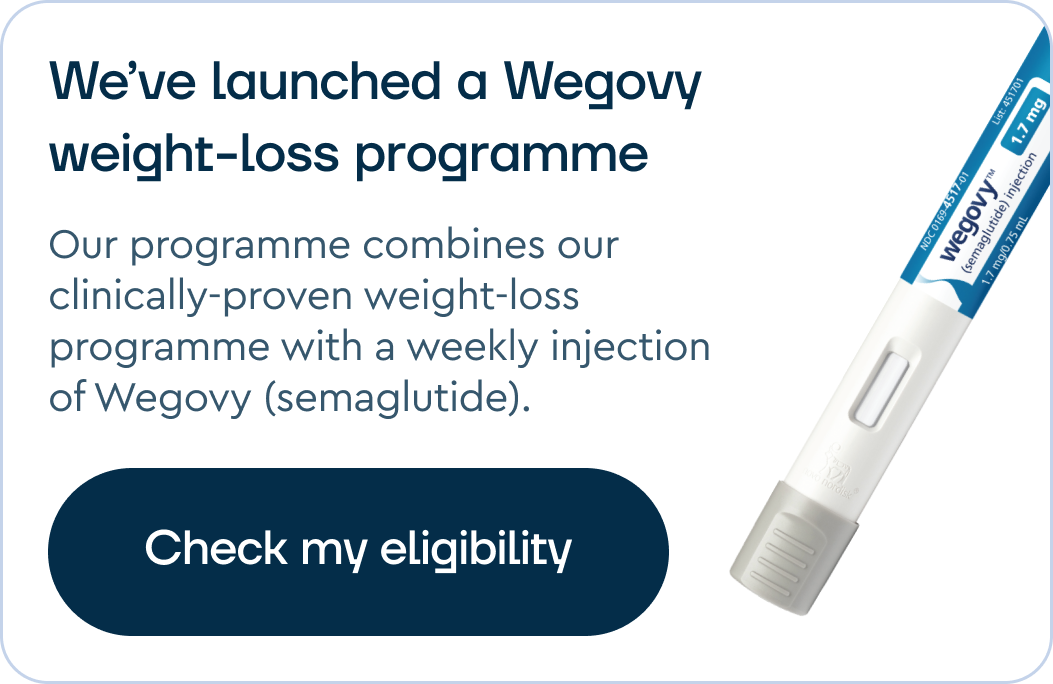 Flexibility is the key to sustained weight loss
Eating out at cafes is an enjoyable social experience that you shouldn't have to miss out on for the sake of your health journey.
Many people worry that going to restaurants or cafes always means overindulging; however, it's possible to eat healthily when eating out.
Pret a Manger is a popular coffee and sandwich chain that offers dine-in or takeaway options for a quick meal whilst out and about.
With so many options on the menu, it can be tricky to know what to choose, especially if you're trying to stick to your healthy lifestyle. 
Eating out is often a much-anticipated treat. It's perfectly ok to choose a more indulgent option if you want to.
The important thing is that this isn't a frequent indulgence, and you focus on finding the motivation to return to your healthy habits afterwards. 
Science suggests that a reduced carbohydrate diet is the most effective diet for weight loss.
Lower-carb diets are particularly effective for those who struggle with blood glucose control (e.g. people with type 2 diabetes).
On top of this, eating plenty of non-starchy vegetables (e.g. broccoli or peppers), protein (e.g. meat or fish), and healthy fats (e.g. olive oil or nuts) has many health benefits.
If you're looking for a long-term weight loss solution that encourages flexibility so you can still enjoy eating out at restaurants and you'd like to join 150,000 others, you could try Second Nature.
Second Nature's approach: Indulgent but supports weight loss 
In 2022, the NHS published data in the British Medical Journal from the National Weight Management and Diabetes Prevention programme, where five providers delivered weight loss services in the UK.
The results showed that after 12 months, Second Nature was more than twice as effective as the four other providers.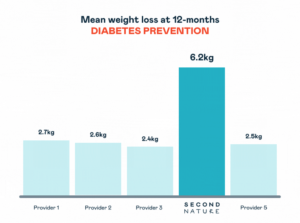 How does Second Nature's approach work?
We approach nutrition and healthy eating differently. We don't count calories, track macros, weigh food, or assign strict targets on your intake.
We provide you with evidence-based guidance on a balanced diet and teach you to understand what your physical and emotional drivers for eating are to reach your weight loss goals.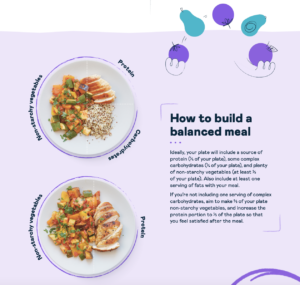 We also provide tools, such as our hunger scale and mindful eating techniques, that help you tune into your physical hunger cues and manage your food choices.
Alongside this, we help you build healthy habits that you can enjoy for a lifetime to help you maintain a healthy weight.
Our feedback inbox is filled with people like Jo, who lost over eight stone to achieve a healthy body weight on Second Nature after following our nutrition guidelines and receiving the support of our app and health coaches.
The difference is that members of Second Nature learn to love food again. They're no longer restricted. They're liberated.
If you'd like to join over 150,000 others who've joined Second Nature, lost weight and kept it off while enjoying eating out at their favourite restaurants, then click here to take our health quiz.
Take home message
There are so many options to choose from when eating at Pret a Manger, some more healthy than others.

Lower-carb diets are the most effective for weight loss

If you want to indulge, enjoy your meal without guilt and aim to eat healthy meals the next day.

If you're looking for a healthy meal, there are several healthy, lower-carb options you can choose from.