Jump to: Should I buy Wegovy online? | Weight regain with Wegovy | Second Nature's NHS-trusted | Cost and Trustpilot reviews | Take home message
We wouldn't recommend purchasing a weight-loss injection like Wegovy from Zava, as the cost of the medication doesn't come alongside a weight-loss programme designed to support you in keeping the weight off in the long term. 
Zava UK also supplies Asda Online Doctor with their Wegovy supply for online weight-loss jab prescriptions.
Research shows that when semaglutide (Wegovy) treatment is stopped, weight regain is very likely if the underlying habits and behaviours that led to weight gain in the past are addressed.
However, Second Nature's medication-supported programme offers several benefits that you won't receive from Zava:
Peace of mind that we've been trusted by the NHS since 2017 to provide weight-loss services
Access to a registered nutritionist or dietitian five days a week
Science-backed articles to help you keep the weight off for good
If you'd like to see your eligibility for our programme when it launches, click here to join our waiting list.
Should I buy Wegovy online?
Wegovy is designed as an additional tool for weight management and shouldn't be considered a lifelong medication.
Instead, it should be used to help you kickstart your weight loss and healthy journey while you commit to living a healthier lifestyle.
Ideally, we'd be able to lose weight without medication and lifestyle changes would be enough to support weight loss in the long term.
We'd generally recommend trying Second Nature's weight-loss programme before considering a weight-loss jab.
Changing your habits is the most sustainable way to achieve long-term weight loss, and it's also less expensive (£40 a month vs. ~£299 a month).
At Second Nature, we've been trusted by the NHS since 2017 to support people with type 2 diabetes and obesity to lose weight, manage their blood sugar levels, and lead healthier lifestyles for the long term.
In 2022, the NHS published data in the BMJ that compared the weight loss outcomes of five providers in the National Diabetes Prevention Programme.
Second Nature was more than twice as effective at supporting weight loss than the other four providers.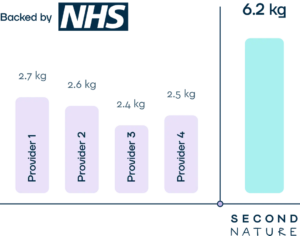 However, if you've decided to try Wegovy (when it's available) but need support in making positive changes to your lifestyle, Second Nature could be an option for you. But it's worth noting that we have strict eligibility criteria.
We'll launch our medication-supported programme soon when semaglutide becomes available; click here to join our waiting list.
Otherwise, keep reading as we look at three reasons you might consider joining our programme over purchasing a weight-loss jab from Zava.
1) Weight regain with Wegovy is likely without the proper support
Like traditional diets, where participants typically regain weight once the diet program ends, weight regain is significant following the cessation of semaglutide.
The greater the initial weight loss, the more significant the weight regained.
However, those who lose more weight initially maintain more significant weight loss compared to baseline than those who lose less before the medication is withdrawn.
In this post-analysis of 327 participants, the average weight loss after 68 weeks was 17.3% with semaglutide and 2% with placebo.
After 52 weeks of follow-up, after the medication was withdrawn, the average weight loss was 5.6% with semaglutide and 0.1% with placebo.
A weight regain of 11.6% in the semaglutide group and 1.9% in the placebo.
Weight regain isn't inevitable. Long-term sustainable weight loss can be achieved, but you need the proper support.
Unfortunately, this support isn't something you'll receive from Zava.
While on the medication, you'll likely lose weight, as evidence shows that semaglutide is extremely effective at reducing appetite and helping you eat fewer calories. 
However, it's likely that when you come off the medication, you'll regain much of the lost weight without making significant changes to your habits and lifestyle.
But support is something that Second Nature can offer, and the fact we've been trusted by the NHS since 2017 to provide weight-loss services showcases the long-term impact Second Nature has had on our members.
2) Second Nature's NHS-trusted and NICE-approved
Second Nature has been trusted by the NHS since 2017. We've delivered programmes for the NHS in type 2 diabetes management, diabetes prevention, and weight management.
The National Institute of Health and Care Excellence (NICE) recently announced that Wegovy would be available via digital weight management services provided by Second Nature and three other companies supporting the NHS.
This approval recognises the high level of patient care and support that Second Nature has provided our members.
In comparison, Zava doesn't have a weight-loss programme and only sells the Wegovy medication in isolation. 
Interestingly, there's no research on the impact of Wegovy without a lifestyle change programme being implemented alongside the weight-loss injection.
3) Wegovy cost and Trustpilot reviews
The total monthly cost of the Second Nature programme, including semaglutide medication, is £229, rising to £299
The total monthly cost of Wegovy with 

Zava starts from

£179, with no precise costs advertised as the Wegovy dose increases
Second Nature's current Trustpilot score based on 6,270 reviews is 4.8, and are rated as 'Excellent'

Zava's current Trustpilot score based on

3,834 reviews is 4.4 and is rated as 'Excellent'


Take home message
Weight-loss injections like Wegovy (semaglutide) can be extremely effective. However, they've only been shown to support weight loss alongside a lifestyle change programme.
It's unclear what the impact of using Wegovy in isolation without the support of healthcare professionals will be.
Zava and other online pharmacies will be selling Wegovy without an evidence-based weight-loss programme to support you through the ups and downs that weight loss inevitably brings. 
Unfortunately, there's no evidence that this can lead to sustainable weight loss in the long term.
So, if you've decided to lose weight with the support of a weight-loss jab like Wegovy, we'd recommend giving Second Nature a go.
To see if you're eligible, you can join our waiting list here.