Jump to: Where can you buy Wegovy? | Should I buy Wegovy online? | How much weight will I lose on Wegovy? | Why should I choose Second Nature for a weight-loss injection? 
You can purchase Wegovy online from registered and regulated clinics and pharmacies in the UK and the U.S. You need a prescription to buy Wegovy, which you can complete using a simple online form.
However, Wegovy's launch in the UK is with limited supply and prioritisation is on NHS patients currently on Saxenda.
When the supply improves, you can also purchase Wegovy from your local pharmacy and online through companies like Second Nature.
Did you know?

Second Nature will launch a medication-supported programme when semaglutide becomes available.

If you'd like to join our waiting list, click here.
How much does Wegovy cost?
As Wegovy only launched with limited supply in the UK in September 2023, and its exact cost is unclear as it's primarily used in the NHS for specialist weight management services.
However, buying Wegovy and the injectable pens required for four weeks will likely cost over £200 a month or up to £2400 per year.
Wegovy is available in the U.S.; the cost depends on your insurance coverage, discounts, and pharmacy.
Typically, Wegovy will start at a lower cost of around $25 a month and rise after 6 months to around $1500.
Should I buy Wegovy online?
Wegovy is designed as an additional tool for weight management and shouldn't be considered a lifelong medication.
Instead, it should be used to help you kickstart your weight loss and healthy journey while you commit to living a healthier lifestyle.
Ideally, we'd be able to lose weight without medication and lifestyle changes would be enough to support weight loss in the long term.
We'd generally recommend trying Second Nature's weight-loss programme before considering a weight-loss jab.
Changing your habits is the most sustainable way to achieve long-term weight loss, and it's also less expensive.
At Second Nature, we've been trusted by the NHS since 2017 to support people with type 2 diabetes and obesity to lose weight, manage their blood sugar levels, and lead healthier lifestyles for the long term.
In 2022, the NHS published data in the BMJ that compared the weight loss outcomes of five providers in the National Diabetes Prevention Programme.
Second Nature was more than twice as effective at supporting weight loss than the other four providers.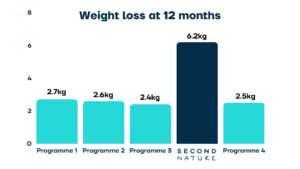 However, if you've decided to try Wegovy (when it's available) but need support in making positive changes to your lifestyle, Second Nature could be an option for you. But it's worth noting that we have strict eligibility criteria.
We'll launch our medication-supported programme soon when semaglutide becomes available. Click here to join our waiting list.
How much weight will I lose on Wegovy?
Wegovy leads to an average weight loss of 15-20% after 68 weeks and is more effective than other weight-loss injections, like Saxenda.
A meta-analysis investigated the impact of semaglutide (Wegovy) and liraglutide (Saxenda) and suggested that semaglutide was more effective at lowering blood sugar levels (as measured by HbA1c).
The study showed that a 0.5mg dose of semaglutide led to a more significant reduction (0.17%) in HbA1c than liraglutide.
The 1mg dose of semaglutide showed a further benefit compared to 1.2mg and 1.7mg of Saxenda at 0.47% and 0.3%, respectively.
However, the studies used to compare the two drugs were from individual trials, comparing one of the medications with a placebo (a sugar pill). They hadn't yet been compared directly with one another.
Fortunately, a randomised controlled trial was conducted in 2022 investigating the impact of semaglutide and liraglutide on weight loss in individuals living with obesity.
The results showed that the participants in the semaglutide group lost 15.8% of their body weight compared to 6.4% in the liraglutide group.
Semaglutide was also shown to be more tolerated than liraglutide. 13.5% of participants in the semaglutide group discontinued their treatment due to side effects, compared to 27.6% with liraglutide.
Over 80% of participants in both groups reported common side effects and GI-related issues such as constipation, cramping, bloating, and diarrhoea.
Due to the positive results from these studies, Semaglutide was made available in 2023 in the UK after the U.S. approved the drug in 2021.
How does Wegovy compare to weight loss without medication?
Lifestyle interventions without semaglutide tend to lead to an average weight loss of around 5-10%.
Losing and maintaining weight loss of more than 10% is associated with significantly reducing complications related to obesity, including hypertension, type 2 diabetes, and heart disease.
A recent paper published in The Lancet showed that nearly 20% of participants in lifestyle interventions without medications gain weight, around 40% lose between 1-10% of their body weight, and just 13% lose more than 10%.
In comparison, less than 5% of participants combining semaglutide with lifestyle interventions gain weight, around 10% lose between 1-10%, and 87% lose more than 10%.
So, 47% more people lose more than 10% of body weight on lifestyle interventions with semaglutide compared to lifestyle interventions alone.
Why should I choose Second Nature?
Many companies (Boots, Superdrug, Juniper, and Weight Watchers) will offer semaglutide injections alongside a weight-loss program, and we'll be biased and recommend you choose Second Nature and that's for one primary reason:
Peace of mind.
Second Nature is the only UK company that provides private weight-loss injections and is also trusted by the NHS to provide weight-loss services, alongside receiving NICE approval to deliver weight-management services with Wegovy medication.
The NHS has used Second Nature for over 6 years, and we ensure we abide by the highest levels of data security and patient safety.
With that, we believe there comes a level of authenticity and peace of mind that other providers can't match (e.g. Weight Watchers, Boots, Superdrug, Juniper, Numan, Manual, etc.).
If you want to go with a company with a proven track record of providing the most effective digital weight-loss programme to the NHS (as proven in our official scientific publications in the British Medical Journal and others), then give us a go.
Second Nature will launch a medication-supported programme when supplies of semaglutide are confirmed with our partners.
If you'd like to join our waiting list of over 13,000, click here.