We're really excited to announce the official release of our new shopping list feature!
We've made food shopping easier with our new tool that automatically creates a shopping list from the meals you choose for your weekly meal plan. 
Having a shopping list means you're more likely to stick to your meal plan and avoid temptations in the supermarket. We want to make sticking to your new healthy habits as easy as possible and save you time – this feature does both!
What does this new feature do?
Our meal plan feature allows people on the Second Nature programme to create a meal plan for an upcoming week. 
In the Second Nature app, our members can pick out recipes that suit your needs, preferences, and the ingredients you have to hand. The meal planner tool displays your choices in an easy-to-view way, making it easy to stay on top of your plan. 
Using this, our new shopping list tool converts the ingredients for each meal into a single shopping list that you can take to the supermarket or use for your online shop.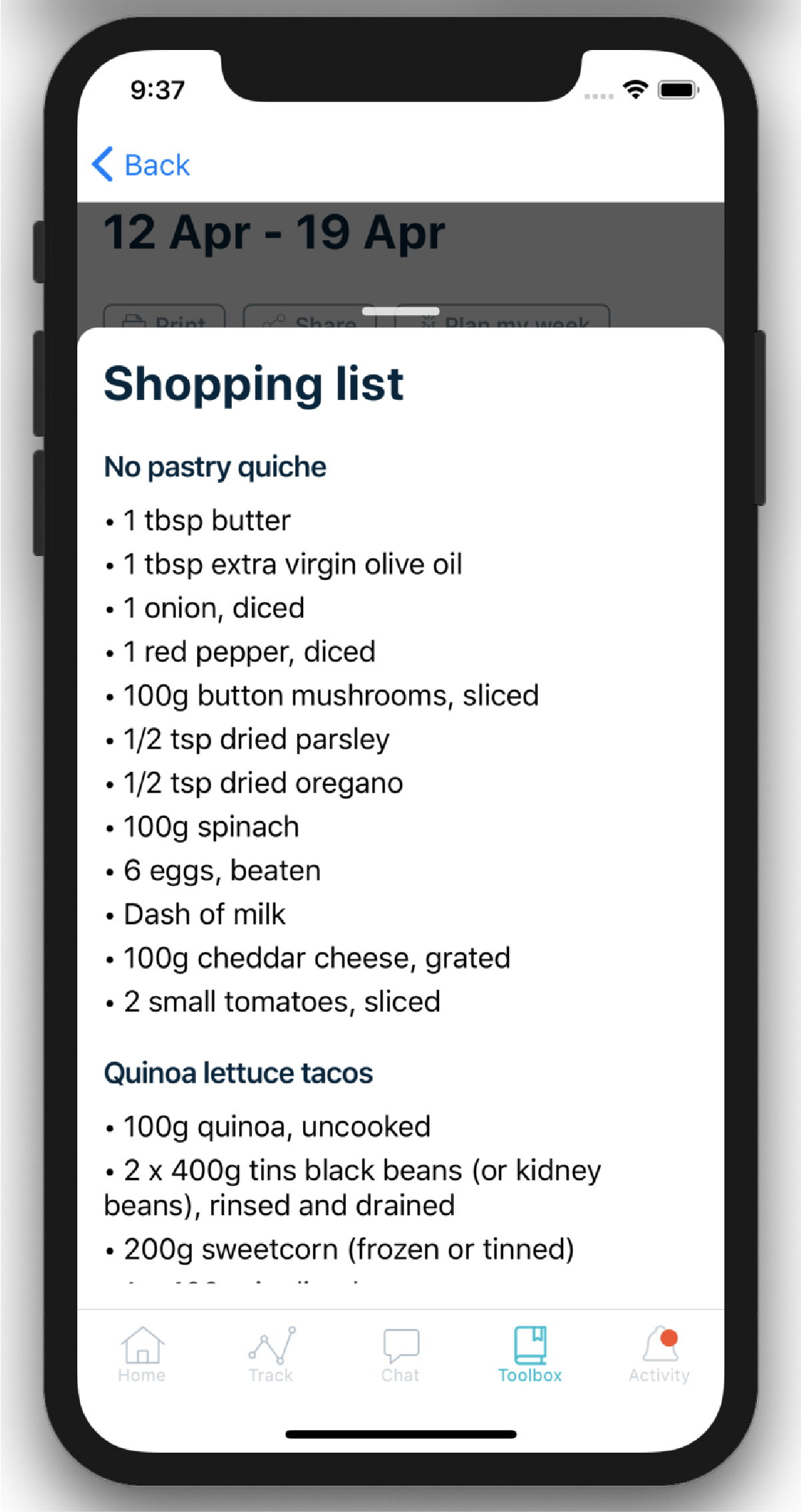 We're continually improving our features and this is the first version of the shopping list, but we're pretty happy with how it's turned out!
With this first release, you can generate a shopping list for Second Nature recipes in the app. Look out for future releases coming soon where you can include your own recipes.
Want to make losing weight feel easier?
Second Nature uses science to help you make healthy choices, ensuring they stick in the long run. Join the 150,000 people on a Second Nature journey today by taking our quiz. We use your quiz answers to tailor our advice and support on the programme, to ensure you lose weight and keep it off.
Why a shopping list tool? 
We've had great feedback from Second Nature members about our meal planner tool but the next step of convenience was converting our meal plans into practical lists for our members. 
Over the past few months we've had lots of feedback from Second Nature members that a shopping list would be a really useful addition, and would help to make shopping quicker and simpler: 
"Is it possible to generate a shopping list from my meal plan? It would make the weekly shopping list much easier!"
"I have set my meal plan, is there a way to get the shopping list for all the meals I have selected for the week? I have manually done the shopping List time but would prefer if something there in the app."
Reflecting on feedback from our members is an important part of what we do at Second Nature, and we use this information to constantly improve our app and programme. So the shopping list tool was built!
Why is creating a shopping list important?
Throughout the Second Nature programme, we highlight the importance of planning our meals. To stick to our meal plan, though, we need to have all the right ingredients and that's made much easier by having a shopping list. 
Going shopping without a list means we're more likely to forget things that we need for our meal plan, and are more likely to buy things we don't need on impulse. 
The supermarket can be a tempting place, and it's easy to be enticed by special offers on processed foods that are often high in added sugar or carbohydrates. Sticking to a shopping list can make it easier to avoid buying these. 
A shopping list also helps to prevent food waste by ensuring we only buy what we need that week. Planning ahead and checking the fridge and cupboard means we don't double up on items that we already have – saving money and reducing waste.
By only buying what we need and cutting back on snacks and processed foods, we can make it easier to stick to our meal plan, prevent food waste, and save money on our food bill! 
How to use the new shopping list feature
If you're on our programme, update your Second Nature app to version 5.8.12 from the

Apple App Store

or

Google Play Store

Open the app and navigate to the 'Toolbox' section 

Click on 'Meal Planner' and then 'Start new meal plan' (you can choose an upcoming week, starting on the Monday of each week)

Click on the week you've just created

You'll then be shown an empty 7-day meal plan (Monday-Sunday)

Start adding your favourite Second Nature recipes

Once you have added your meals click on 'Shopping List' at the top of the page and you will see a list of your ingredients broken down by recipe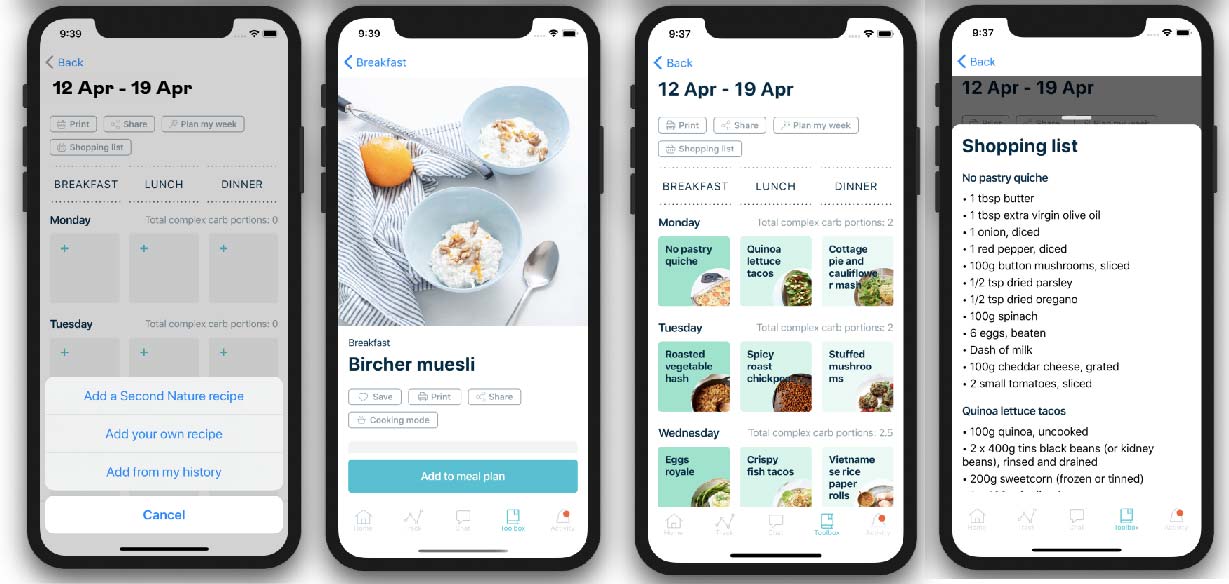 As always, we'd love to hear any suggestions of how we can improve. For any feedback, queries, or issues please email support@secondnature.io.