We're really excited to announce the official release of our new meal planning feature!
The top piece of advice that we get from people who've previously done the Second Nature programme is that planning their meals was one of the best ways to stay on track.
We put a lot of emphasis on meal planning throughout the programme, as we know that people who build this habit find it easier to make healthy changes.
So that's what we've built!
What does this new feature do?
Our meal plan feature allows people on the Second Nature programme to create a meal plan for an upcoming week. In this first version of the tool, you can add any Second Nature recipe to your meal plan, while seeing at a glance how many carbohydrate servings you'll be having that day.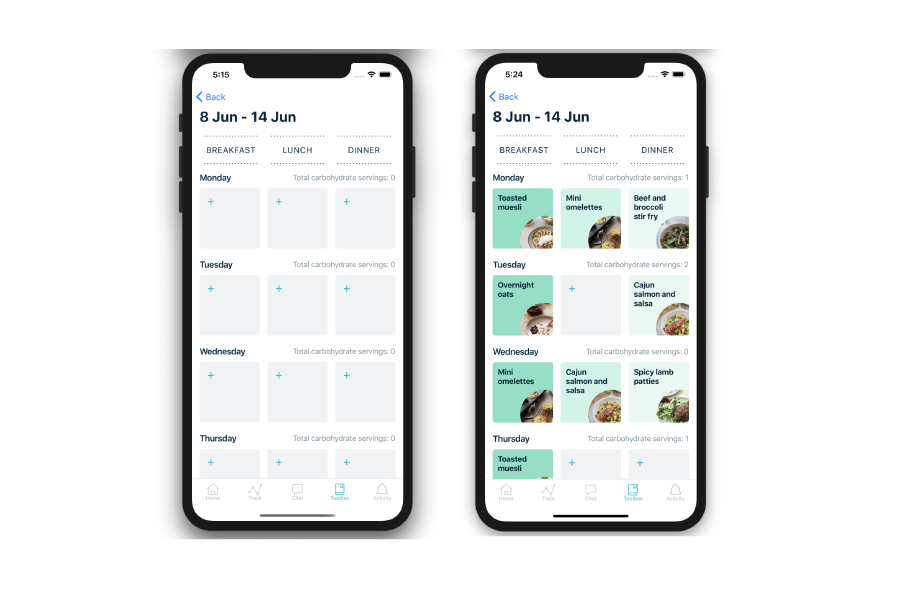 We're continually improving our features and this's the first version of the meal planner, but we're pretty happy with how it's turned out!
New and improved versions will be released as soon as possible. On Monday 8th June the added feature of being able to add and save your own custom recipes and meals will be available.
We have lots of exciting improvements coming soon to the meal planner, including the ability to add multiple recipes to a meal, duplicate meals in the plan, and add notes to a meal.
Why a meal planner feature?
We've heard from people on the Second Nature programme that it'd make meal planning more manageable if it could be done in the app, rather than on paper:
"When I'm trying to work out what I'm going to eat for the next few days, I want to be able to easily visually plan this out so that I know what I'm going to be eating (and when) and what I need to buy at the supermarket."
We're constantly striving to make building healthy habits that last as easy as possible for people on the Second Nature programme. We want to make it easy to build habits around nutrition, exercise, sleep, and stress by providing the tools all in one place – in our app and in your pocket.
With the addition of the meal planner feature, it's now possible to plan meals, track weight and steps, record food diaries, journal, and speak to a qualified health coach and peer group all within the Second Nature app.
Want to make losing weight feel easier?
Second Nature uses science to help you make healthy choices, ensuring they stick in the long run. Join the 150,000 people on a Second Nature journey today by taking our quiz. We use your quiz answers to tailor our advice and support on the programme, to ensure you lose weight and keep it off.
Why is meal planning important?
We highlight the importance of planning our meals and eating three balanced meals a day on the Second Nature programme.
It's much easier to get out of the habit of snacking regularly if we're eating three balanced meals per day. Whether it's driven by physical hunger or emotional hunger, blurring the lines between meal and snack times can lead to us eating more overall.
Plus, if we haven't provided our bodies with a satisfying, balanced meal we're more likely to overeat on foods that provide a quick boost of energy, which are normally those high in added sugar or refined carbohydrates.
Planning meals ahead of time can make sticking to three balanced meals a day much easier. It also prevents last-minute ready meals or takeaways, which are often packed with added sugars and refined carbohydrates.
How to use the new meal planner feature
If you're on our programme, update your Second Nature app to version 5.3.0 from the Apple App Store or Google Play Store.
Open the app and navigate to the 'Toolbox' section
Click on 'Meal Planner' and then 'Start new meal plan' (you can choose an upcoming week, starting on the Monday of each week)
Click on the week you've just created
You'll then be shown an empty 7-day meal plan (Monday-Sunday)
Start adding your favourite Second Nature recipes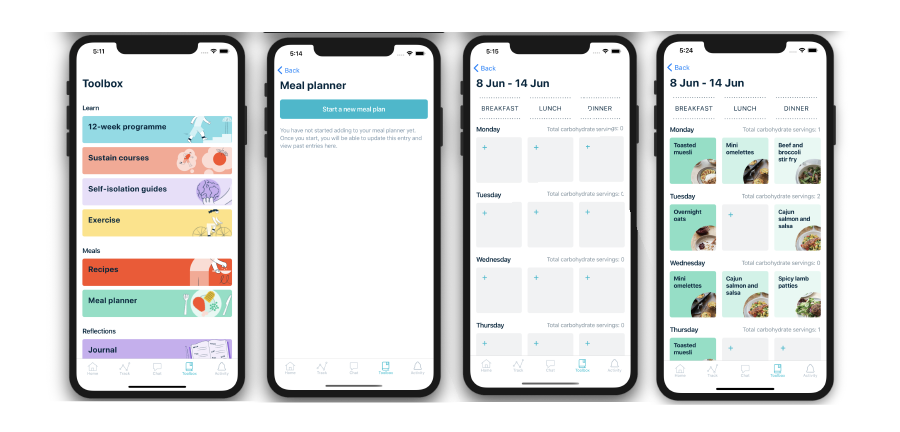 As always, we'd love to hear any suggestions of how we can improve. For any feedback, queries, or issues please email support@secondnature.io.