The outbreak of coronavirus (COVID-19) means that the majority of us are housebound until the lockdown lifts. As our usual daily routines have been heavily disrupted, some of us might struggle to stick to our health goals or practise healthy habits as we did before lockdown.
This sudden disruption to our lives can result in an increase in stress or anxiety, making it more challenging to eat healthily, exercise regularly, prioritise our mental wellbeing, and sleep well. Plus, experiencing heightened emotions or feeling overwhelmed can lead us to turn to food as a source of comfort.
Second Nature recently performed a survey, which included over 1800 participants, to gather insights into how our lifestyle habits have changed since the coronavirus outbreak. Interestingly, the survey found that over 50% of us are eating more snacks than usual. On top of this, almost 50% of us reported eating when bored and 25% felt out of control with our eating habits.
We spoke to two Second Nature members who have been completing the programme whilst in self-isolation to find out which features of the programme they've found the most helpful and how the programme has influenced their daily routine during lockdown.
Second Nature is a completely digital habit change programme that gives you daily, online support from a health coach and a peer support group. All of our health coaches are registered nutritionists or dietitians. The 12-week course takes place entirely within the app with no need for in-person meetups.
Meet the members!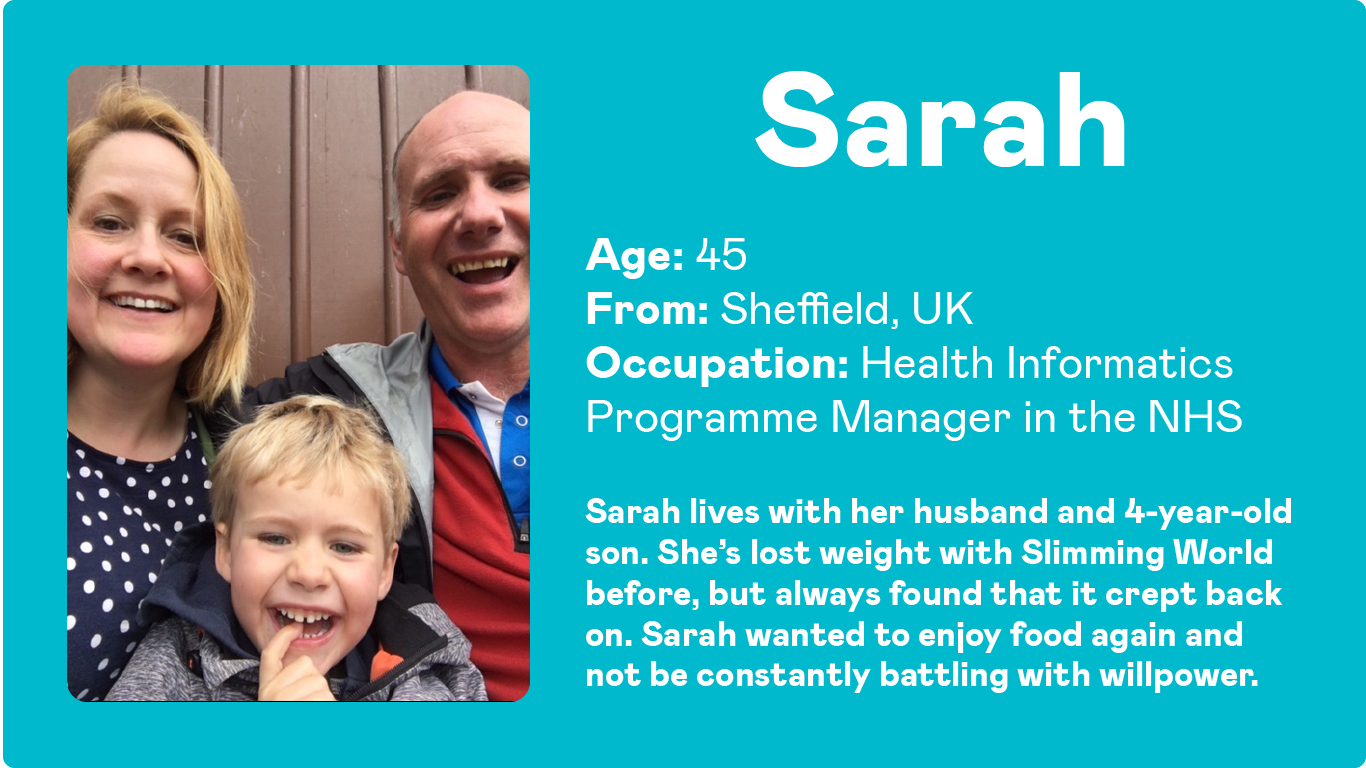 Have you found any features of the Second Nature programme particularly helpful since being in self-isolation?
'Yes, the daily articles, both the general ones and also the ones tailored to the social isolation situation. They help me to understand why I may be craving unhealthy food and have taught me techniques to stop myself from indulging in emotional eating.
I have also found having access to my personal health coach very useful during this period. My health coach is available during working hours to answer any questions that I have, in addition to the group chat.
It took me a while at first to get my head around the fact that this wasn't just another diet but rather my new way of eating, which was healthy. Recent chats with my health coach really helped me with this.'
'Having my lovely health coach has been the best thing for me! I don't feel like I need her all the time, but just knowing she's there to help in the back of my mind if I have any questions is comforting. Her sugar-free alternative to ice cream, (pineapple slices on lolly sticks dipped in yoghurt and coconut and then frozen) has been a real lifesaver for this warm weather!
The group chat is great too, as we're all in the same boat – out of routine, and tackling things that we're not used to. It makes you feel less alone.'
Want to make losing weight feel easier?
Second Nature uses science to help you make healthy choices, ensuring they stick in the long run. Join the 150,000 people on a Second Nature journey today by taking our quiz. We use your quiz answers to tailor our advice and support on the programme, to ensure you lose weight and keep it off.
Do you think that the programme is suitable for those of us stuck at home for a while?
'Yes, I do! I've never been the sort of person who has felt comfortable physically going to a slimming group, but the peer support group you become a member with as part of Second Nature has worked for me.
Although it can be harder to get hold of fresh food right now, there are alternatives. I have always eaten when I feel anxious so I'm very sure that if I hadn't started the programme, I would probably have been nearly a stone heavier by now.'
'I absolutely do – I feel like it really helps get you focused. I need that more than ever whilst I'm at home right now. The programme's really good, not just for losing weight and building healthy habits around food and drinks, but also for looking after your mind. We all need this more than ever during this crazy time!'
What's been your biggest challenge in keeping healthy habits up while socially distancing?
'Not being able to get out and walk a lot. I have a health condition that means that it's difficult for me to do certain workouts at home, but walking is something that I can do and I enjoy doing. Second Nature has been posting a lot of helpful videos and exercise suggestions recently.'
'Being so close to the kitchen! I've tackled this by prepping snacks to have to hand, such as veg sticks and houmous – I know that's much better than having biscuits! I think the challenge is definitely only eating when I'm physically hungry, this old habit is definitely dying hard!'
Have there been any silver linings to being at home much more, regarding your health?
'Yes, not being faced with having to decide what to eat from a restaurant menu. As I cook all our meals from scratch at home, I'm not faced with temptation from unhealthier restaurant food. It will be interesting when we're allowed to eat out again to see how I get on with choosing restaurant food.'
'Yes – definitely, I'm more active because I seem to have more time [during lockdown]. I'm not dashing to do the school run and get to work. I'm at my desk for my start time and I'm already at home for 5pm! It means I have plenty of free time. I'm also eating the meals I plan, rather than nipping out, or going to the pub for a meal!'
What advice would you give those of us self-isolating who're considering joining the Second Nature programme?
'I would say go for it! There's rarely a 'right time', and adopting a healthy lifestyle improves your overall health and immune system. Every pound that you lose improves your overall health.
The other massive benefit that I wasn't anticipating is the freedom from the self-loathing I felt from being unable to 'control' what I ate. This isn't a diet – it's how I eat now. I don't feel like I'm missing out because I'm not and I enjoy what I am eating.'
'Absolutely go for it – it covers so much more than just diet. It's excellent value for money, and the support will be everything you need to start feeling good about yourself!'
Example daily routines on the Second Nature programme
To understand how people on the programme fit the different aspects of the programme into their daily life during self-isolation, from meal planning to breathing exercises, here's two example routines of a typical weekday in lockdown for Sarah and Gilly.
Sarah
Morning
6.45am – wake up, go downstairs and have a cup of tea on my own in peace and quiet. Catch up on my Second Nature articles. I do some deep breathing exercises

7.30am – my four-year-old son wakes up and it's a whirlwind of making breakfast and getting him dressed

8am – I eat a breakfast of fruit and full fat greek natural yoghurt. I then shower and dress

9am – I start work while my husband home schools our son

Afternoon
12pm – I break for lunch. During lockdown I've often been having an omelette, using frozen mushrooms which are handy for when the fresh food runs out! I now try not to be distracted when I'm eating so that I can notice my food.

1pm – I have a catch up with messages on my phone, including those from my Second Nature group chat.

3pm – I have a snack of 30g of unsalted nuts

Evening
5pm – I stop work and start making the evening meal. We all eat together as a family and so eat earlier in the evening. A firm family favourite is now the Second Nature chicken fajita bake. I make extra to freeze for easy lunches.

8pm – I put my son to bed and I go out for my daily walk. It's a good time for me to increase my steps and think about the day in my mind.

10pm – I go to bed. Sometimes I read before going to sleep.
Gilly
Morning
7am – Wake up

7:30am – attempt an online workout at home

8:30am – start work

9:30am – take a break for breakfast, usually scrambled eggs and spinach or an omelette

10am – back to work

Afternoon
12pm – I have a read of the daily article and catch up with all the group messages

12:30pm – prepare lunch for the kids and eat whatever leftovers I saved from dinner!

1pm – work

3:30pm – a quick snack, either houmous and veg/pitta or nuts depending on my meal plan

5pm – finish work and start cooking dinner

Evening
6:30pm – round up all the kids and sit down for our evening meal

7pm – out for my daily walk, either around the village or a little further away to the woods

8:30pm – read a bedtime story to my youngest and get her in bed

9pm – read my book, and make sure my meals for the next day are prepped

10pm – go to bed
What does the Second Nature programme actually offer?
Second Nature is a 12-week digital programme that helps you to build healthy habits and lose weight in the long term. It combines support from registered dietitians and nutritionists with the convenience of an app-based programme.
Many people are more familiar with Weight Watchers or Slimming World, so we created a guide comparing the digital programmes with Second Nature to help you draw comparisons between the different options.
While many traditional face-to-face weight loss programmes are now starting to move online, Second Nature has the benefit of being built as a digital platform from the beginning. This means we're experienced at providing support through digital chat groups and tracking technology in the app.
When you sign up to the Second Nature programme you get:
1-1 support from a registered dietitian or nutritionist, keeping you motivated and accountable
A supportive group to help you work through challenges and share your achievements
Habit-change techniques to improve your nutrition, sleep, stress, activity levels, and more
Simple recipes with step-by-step videos that won't leave you feeling hungry
No calorie counting. No fad diets.
Second Nature tackles weight loss by focusing on your habits and changing your behaviours. This means that any healthy lifestyle changes you make will be sustainable and last in the long term.
Take a look at our Trustpilot reviews to understand what people think of the programme.