We're delighted to announce our partnership with Roche Diabetes Care, which will see our programme rolled out to consumers across the UK and Ireland.
Under the Accu-Chek brand, Roche Diabetes Care has been a pioneer in the development of blood glucose monitoring systems and a global leader for diabetes management systems and services for over 40 years.
Until now the OurPath programme has only been available through our website and in NHS trials through GP surgeries in London. However, the results are impressive, with previous participants seeing an average weight loss of over 7kg and a 50% reduction in risk of type 2 diabetes.
We were recently selected as one of the digital providers of the Healthier You: NHS Diabetes Prevention Programme, which will see thousands of NHS patients go through the programme to help them prevent type 2 diabetes.
OurPath in partnership with Accu-Chek, will see the programme offered to far more consumers at a much quicker pace, with the aim of putting more than 750,000 people in the UK through the programme over the next five years, which could result in a £525m saving to the NHS.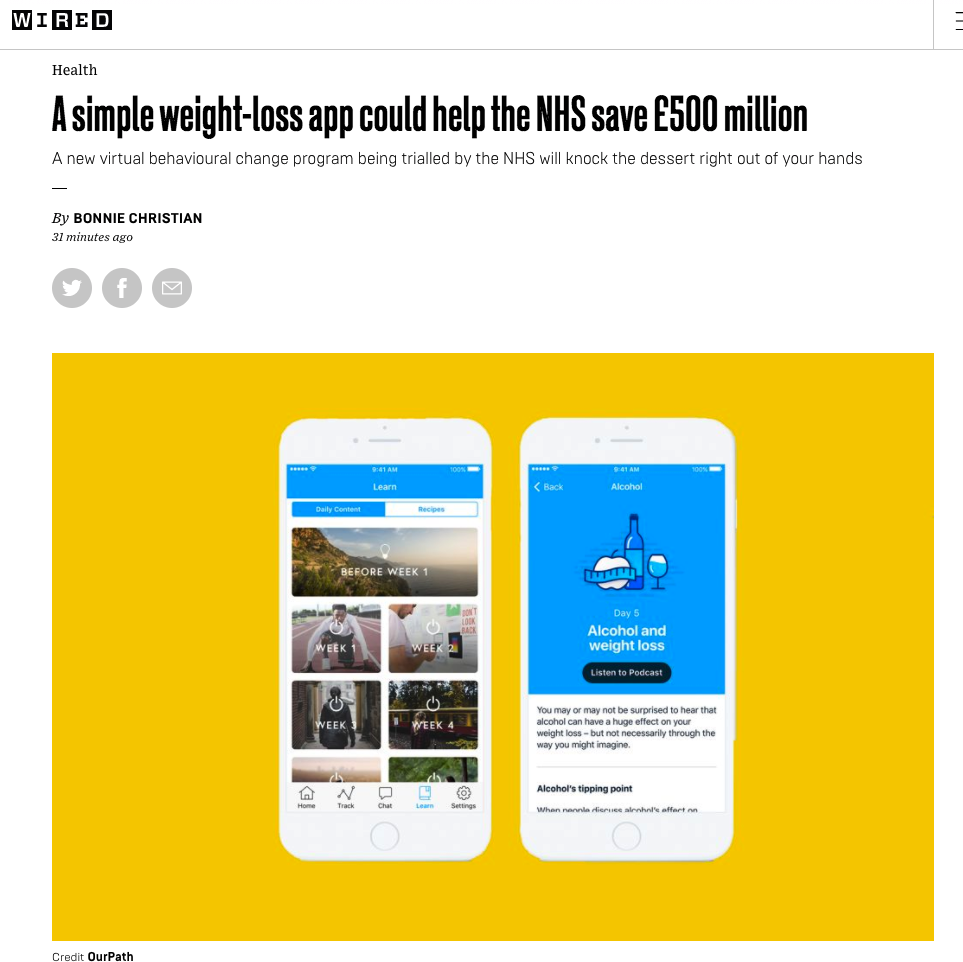 This partnership in the digital health space, is another example of Roche's move to offer more patient-centered digital health services, having recently acquired diabetes app mySugr earlier this year.
The founders of OurPath recognised the huge impact type 2 diabetes has on vast swathes of the population: one in three adults in the UK have pre-diabetes and may be at risk of developing type 2 diabetes if they don't change their lifestyle. Furthermore, recent government reports suggest the NHS spends up to £9 billion every year treating type 2 diabetes and its associated complications.
Brett Lewis, General Manager of Roche Diabetes Care UK & Ireland, said: "I'm delighted to announce our new partnership with OurPath, whose innovative programme is already demonstrating some fantastic results. We are looking forward to a successful future together."
Mike Gibbs, President of OurPath, said: "The challenge of the 21st century is behavioural change. The diseases that are affecting us the most and crippling global healthcare economies are the ones caused by our own unhealthy lifestyles. Lifestyle change programmes like OurPath are critical to help improve the nation's health and get people changing their behaviours for the long term."
Users sign up for the three-month programme for £180. They receive a Health Box in the post with an activity tracker and digital scales, as well as a recipe book and a handbook containing the OurPath nutrition advice.
Via the OurPath smartphone app, users can then monitor their weight and sleep patterns, access educational information and receive daily chat support from their mentor and an online community. After the initial programme is completed, they can choose to continue tracking their progress and receiving support for only £10 a month.
Chris Edson, CEO of OurPath, added: "Our partnership with Roche gives us the scale we need to really impact to people's lives across the UK."
You can read more about our partnership in WIRED magazine, or find out about the OurPath programme here.