Over the past few months, all of us at Second Nature have been contemplating a major question – how can we make it as easy as possible for our members to make healthy eating, moving, and living Second Nature?
We gathered feedback from our members and burrowed our heads into the latest research on behaviour change, weight loss/maintenance, and levels of support.
With the combination of learnings from the latest scientific evidence, best practice guidelines, and our members, it became clear to us:
We need to offer more individualised and ongoing support to help people to continue to work towards their goals. 12-weeks is a relatively short time to make changes in the grand scheme of things!
With that goal in mind, our in-house dietitians, psychologists, and behavioural change specialists have tirelessly worked to create our brand new programme. We're thrilled to announce it's officially live as of Monday 21st February 2022!
So what's changed?
Here's a summary of what's changed. For more detail, you can skip to the relevant section:
More personalised support

1:1 private chat with your expert health coach
Small, intimate groups
A webinar hosted by health coaches to help welcome you to the programme

The latest science to improve our programme

Evidence-based, simplified, and visual nutrition guidelines
A brand new structure reflecting the latest behavioural change science

Flexible pricing

2-week trial period
Ongoing, stable monthly payments that can be cancelled at any point
More Personalised Support
Science shows that personal accountability and motivation leads to better results. We want our members to know that even if it's not easy, their health coach is with them every step of the journey. So, we've introduced 1:1 private chat with your health coach. All of our health coaches are registered nutritionists or dietitians and, just as importantly, real people rather than robots. You can see some of our health coaches in action in your first week in our onboarding webinars.
Face-to-face sessions with a registered dietitian or nutritionist health coach cost around £50-£150/hour, whereas Second Nature provides the same level of support (and much more) whenever it's needed for a fixed monthly price of £40/month.
New research also shows the more intense the support, the better the outcomes. So, we've reduced group sizes to keep an intimate and supportive environment.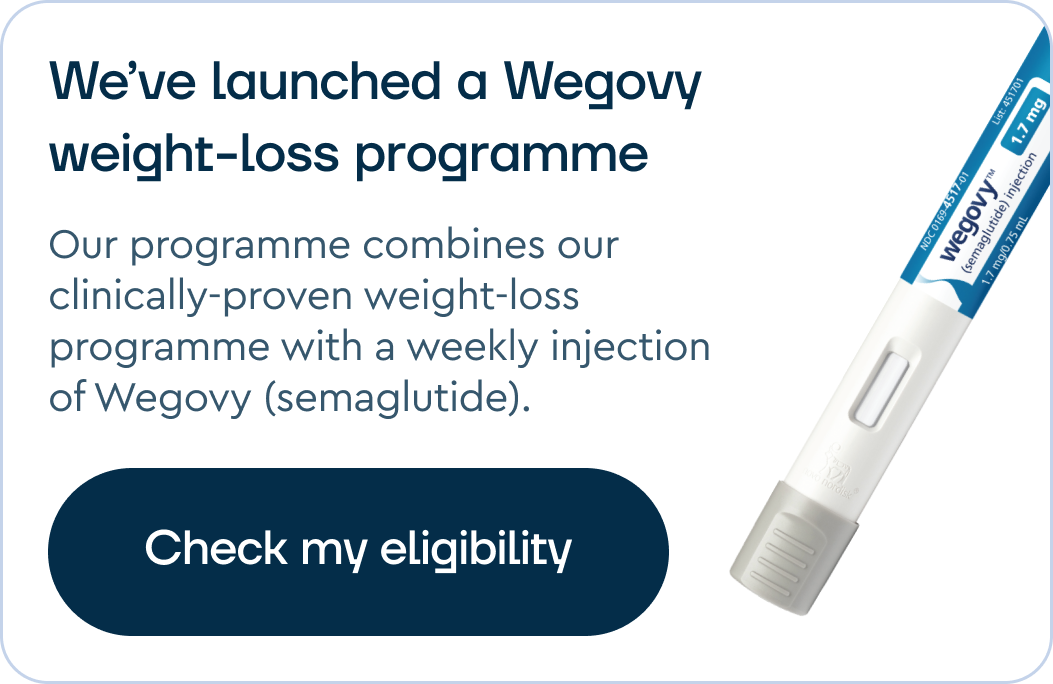 The latest science to improve our programme
Our number one goal is to set Second Nature members up for long-term success. In order to do so, we need to keep our nutrition and lifestyle guidelines up to date and easy to follow.
We know that many of our members have tried other solutions in the past and couldn't stick to them because they rely on strict rules and counting, whether it's calories, 'points', or 'syns'. Long-term change is only possible when we can easily incorporate our new habits into our daily lives, and obsessive counting isn't sustainable. So, we've entirely removed the need to weigh, count, or obsess over particular foods or food groups. All our nutrition guidelines are now more visual too, with videos, infographics, and simple models.
It's also clear from the literature that long-term change takes time – there's no sustainable 'quick fix' out there (trust us). Many of our members who loved the programme simply wished it was longer so that they could solidify their new habits. To allow for ongoing support and the flexibility to make changes at your own pace, we've updated our programme to be an ongoing subscription.
Flexible pricing
It can be financially daunting to try a new programme, especially when you've tried so many in the past with little long-term success. We're so confident that you'll love the new programme, that you can trial the programme for 2 weeks. You can have full access to all features on the app, including your 1:1 private health coach chat, hundreds of recipes, meal planning tools, and new articles. If you decide it's not for you, simply cancel within 2-weeks, no strings attached.
After the trial period, members now begin a rolling monthly contract of £40/month that stays stable throughout your subscription. The contract is flexible so you can cancel at any point without being charged for future months.