After the announcement that semaglutide (Wegovy), a GLP-1 receptor agonist that reduces appetite to support weight loss, has been approved for use in the NHS via prescription – we're excited to announce that we'll be launching a new Wegovy-supported weight-loss programme in 2023 in the UK!
This will be in combination with our award-winning weight-loss programme, which has over five years of clinical data proving its effectiveness.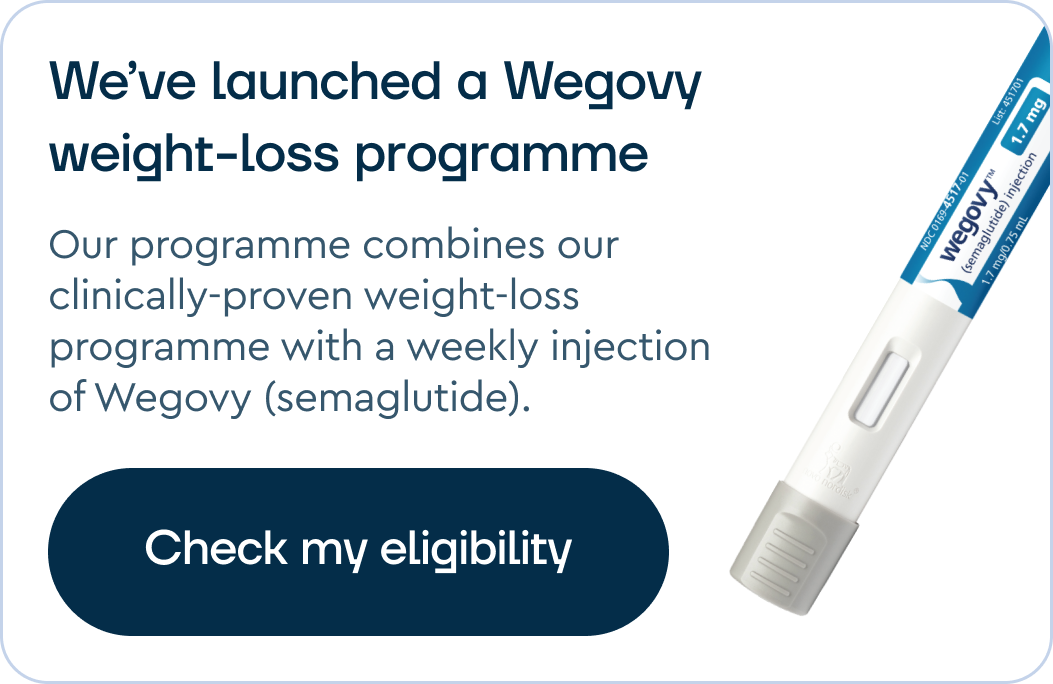 Why is Second Nature launching a Wegovy programme?
One of our values at Second Nature is Let The Data Guide You. For anyone who's read the clinical trial data on the most recent GLP-1 semaglutide (Wegovy), you'll know that the potential of these medications is incomparable to any weight loss medication that's come before it.
For example, a randomised controlled trial was conducted in 2022 investigating the impact of two GLP-1s – semaglutide and liraglutide – on weight loss in over 300 individuals living with obesity.
The results showed that the participants in the semaglutide group lost 15.8% of their body weight compared to 6.4% in the liraglutide group.
Losing and maintaining weight loss of more than 10% is associated with a significantly reduced risk of developing complications associated with obesity, including hypertension, type 2 diabetes, and heart disease.
A recent paper published in The Lancet showed that nearly 20% of participants in lifestyle interventions without medications gain weight, around 40% lose between 1-10% of their body weight, and just 13% lose more than 10%.
In comparison, less than 5% of participants combining semaglutide with lifestyle interventions gain weight, around 10% lose between 1-10%, and 87% lose more than 10%.
These results are remarkable, and we believe these medications could support many more people in achieving their weight loss goals and reduce their risk of chronic disease.
At Second Nature, we don't recommend taking medications such as GLP-1 receptor agonists to avoid making lifestyle changes.
Still, we support the use of GLP-1s for people who are also committed to making healthy lifestyle changes to improve their health for the long term.
The harsh reality is that for many people, living with obesity has led to their bodies struggling to maintain normal metabolic function.
They might live with high liver fat levels, and their pancreas might struggle to produce enough insulin to manage their blood sugar.
In this scenario, it becomes incredibly challenging to lose weight as the body's hormones that regulate appetite become dysfunctional, which can lead to more overeating.
For individuals for whom this is a day-to-day reality, drugs like semaglutide can give them a life-changing opportunity to shift a significant amount of weight and reset their bodies to make the changes necessary to keep the weight off for good.
Not a magic pill
These medications are designed as additional tools for weight-loss interventions like Second Nature and shouldn't be considered lifelong medications.
Instead, they should be used to help you kickstart your weight loss and health journey while you commit to living a healthier lifestyle.
We're not about a quick-fix crash diet that doesn't educate you on how to lead a healthier lifestyle. We want you to take control!
This is where we come in. We've been working in the NHS since 2017, supporting people to lose weight and manage their type 2 diabetes.
In 2022, the NHS published data comparing five different providers of the Digital Diabetes Prevention Programme.
The results demonstrated that Second Nature was more than twice as effective at supporting weight loss after 12 months than the four other providers.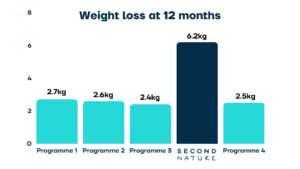 We believe that for the right person, the addition of GLP-1s will allow more people to achieve significant weight loss results and improve their health in the long term.
Our new semaglutide-supported programme won't be for everyone. Many people can lose weight and live a healthier lifestyle without the support of medications, and our core product will remain available via the NHS and for our consumer customers.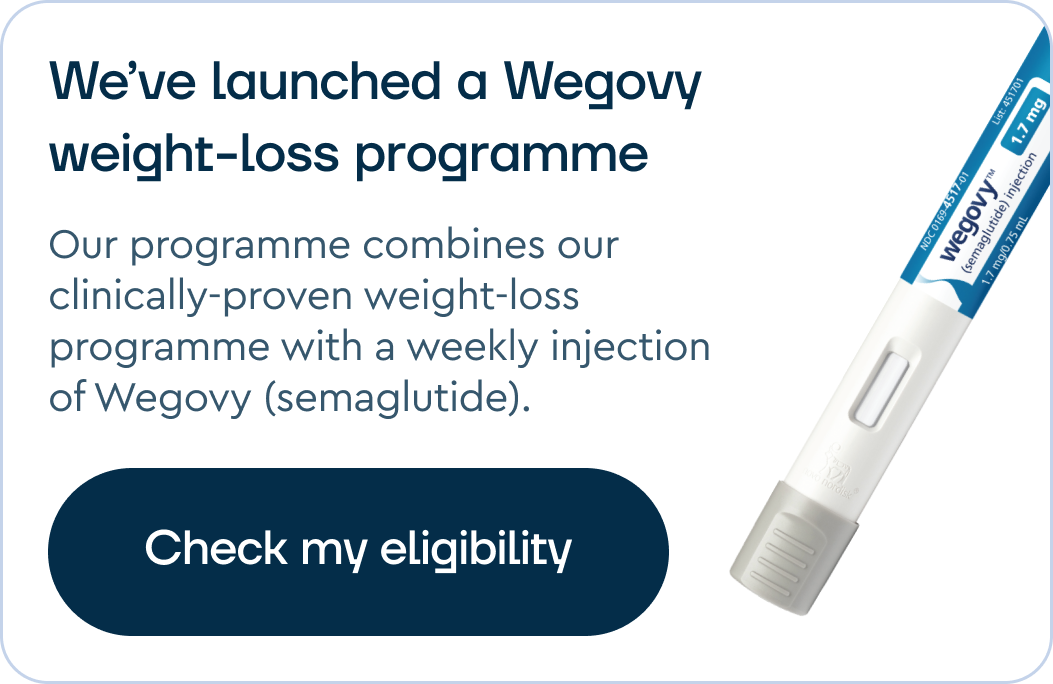 What can you expect from Second Nature's new GLP-1 programme?
Prescription semaglutide medication, delivered to your door
A dedicated health coach who's a registered nutritionist or dietitian to support you every step of the way
Group and peer support in the Second Nature app
Daily behaviour change content, recipes, and activities to help make long-term changes
Access to a prescribing pharmacist to help you with your medication and assist with any potential questions and side effects
We'll launch later this year when semaglutide is available for weight loss in the UK
If you're keen to join our new programme, lose weight, and maintain weight loss for the long term, click here to see if you're eligible
Questions? See below our list of FAQs.
FAQs
A message from our CEO, Chris
What are GLP-1s?
GLP-1s are a type of medication that's used to help with weight loss. They work by mimicking a hormone called GLP-1 that the body naturally produces after eating.
GLP-1 helps to regulate blood sugar levels by stimulating insulin production and slowing down the rate at which food leaves the stomach.
GLP-1 receptor agonists are medications that mimic GLP-1, and can be injected under the skin once or twice a day or once a week, depending on the specific medication.
They may cause side effects, such as nausea, vomiting, or constipation, but these usually subside after a few weeks when your body adjusts.
If you join Second Nature's new GLP-1 programme, we'll support you in safely monitoring your side effects and medication experience.
What is Second Nature?
Second Nature exists to change minds about losing weight. Our app uses behavioural science to retrain your mind to make healthy choices automatically, so these stick in the long run.
But we don't just look at what you eat and how much you weigh. We also look at your sleep patterns, exercise levels, how you regulate emotions, and other habits that impact how you feel.
We also pair you with a registered nutritionist who provides one-to-one advice and supports you in building new, healthier habits.
Our app also has hundreds of simple, indulgent recipes and daily articles that explain the science of healthy living – so you feel empowered to make changes, rather than just being told what to do.
We want to make losing weight feel easier; to make it feel second nature.
Why is Second Nature launching a medication-assisted programme?
Weight-loss medications can be incredibly effective at curbing your appetite and helping you lose weight.
However, research on GLP-1s has shown that weight regain is very common once the medication has been stopped if the person hasn't implemented lifestyle changes.
Essentially, your body becomes reliant on the medication to manage your appetite.
If you haven't made the right changes before you come off the medication, your appetite will return, and you'll likely regain much of the lost weight.
That's where Second Nature comes in. We work with you to establish healthier habits that will help you maintain your weight loss for the long term.
We understand that taking weight-loss medications can be expensive and demoralising if you become dependent on them.
That's why we set you up with the best chance of success by working with you while you take the medication, so you can focus on embedding healthy habits that will help you maintain your weight loss even after you stop taking the medication.
Don't settle for temporary weight loss and a lifetime of yo-yo dieting. With Second Nature, you can achieve sustainable weight loss without relying on weight loss medications.
Can I do Second Nature if I don't want medication?
Yes! Our behavioural science-based programme is available for everyone. You can join over 150,000 others who've lost weight and kept it off by signing up here.
What's included in Second Nature's programme?
Prescription GLP-1 medication, delivered to your door
A dedicated health coach who's a registered nutritionist or dietitian to support you every step of the way
Group and peer support in the Second Nature app
Daily behaviour change content, recipes, and activities to help make long-term changes
Access to a prescribing pharmacist to help you with your medication and assist with any potential questions or side effects
When do you expect to launch?
We've launched!
How do I sign up?
We have stringent entry criteria, but you can check your eligibility for our programme by clicking here.
Can I switch to the medication programme when it launches?
Yes, everyone will be able to join the medication programme if they want to and if they meet eligibility requirements. We feel that starting your behaviour change process early is a great idea and sets you up for success in the long run.
How much will it cost?
It will start at £229 a month for the lower doses, before rising to £299.