Our beloved NHS officially turns 70. For us here in the UK, the NHS has evolved into a household name, providing people with world-class healthcare services.
Reaching 70 years
In the wartime era of the 1940s, British public opinion shifted to favour a universal health system that became the NHS on the back of the Beveridge Report (produced by Aneurin Bevan). Throughout its maturity, the NHS has been met with fierce opposition from camps of GPs, medical associations, and political parties. In its early years, many GPs were unwilling and felt forced to make a number of compromises which limited GPs as purely employees of the state.
In light of this, the NHS has emerged as a global frontrunner in health services provision. Without a doubt, the NHS has become a central part of people's lives in the UK. However, the NHS's journey hasn't always been smooth. Although the health service has brought the elimination of polio to the UK, the world's first IVF baby, and countless successful smoking cessation and cancer screening campaigns – the NHS has and has had its fair share of growing pains.
Where we are today
Priding itself on efficacy and efficiency, one key area where the NHS has struggled recently is lifestyle disease management, with type 2 diabetes in particular. Sources estimate that the condition costs the NHS somewhere in the realm of £11 billion per year – equivalent to £1.2 million per hour. Keep in mind these costs include drugs, inpatient care, and outpatient care – and this is just on the side of the NHS.
What about…the patients?
For many, type 2 diabetes is very much a condition that invades nearly every aspect of everyday life. Type 2 diabetes looks like episodes of hypo and hyperglycemia. It's a lifetime of medications. In some cases, it's poor blood circulation and amputations. This is just one condition of a whole host of lifestyle diseases – hypertension is another example. Often called the 'silent killer', hypertension has earned its common namesake (arguably) due to the lack of awareness around the condition.
For a long time, lifestyle diseases have been largely regarded as second-rate coverage by news media behind the 21st century promise of miracle drugs, magical jabs, and blockbuster cures to public health problems and illnesses.
Luckily, the tides are turning.
Thanks to the hard work of the NHS, there has been a strong push to put lifestyle diseases on the public agenda outside of the health service. With leverage from administrators, junior doctors, nurses, consultants, and of course – the patients, people are beginning to listen.
Going further, it's evident that the NHS has done lightning fast work to prioritise innovation. In order to alleviate the cost burden of lifestyle diseases (in addition to other care areas), and deliver higher quality services – the health service needs to undergo continuous transformation. For the past 70 years, the NHS has been.
That's what we're celebrating.
Want to make losing weight feel easier?
Second Nature uses science to help you make healthy choices, ensuring they stick in the long run. Join the 150,000 people on a Second Nature journey today by taking our quiz. We use your quiz answers to tailor our advice and support on the programme, to ensure you lose weight and keep it off.
A forward view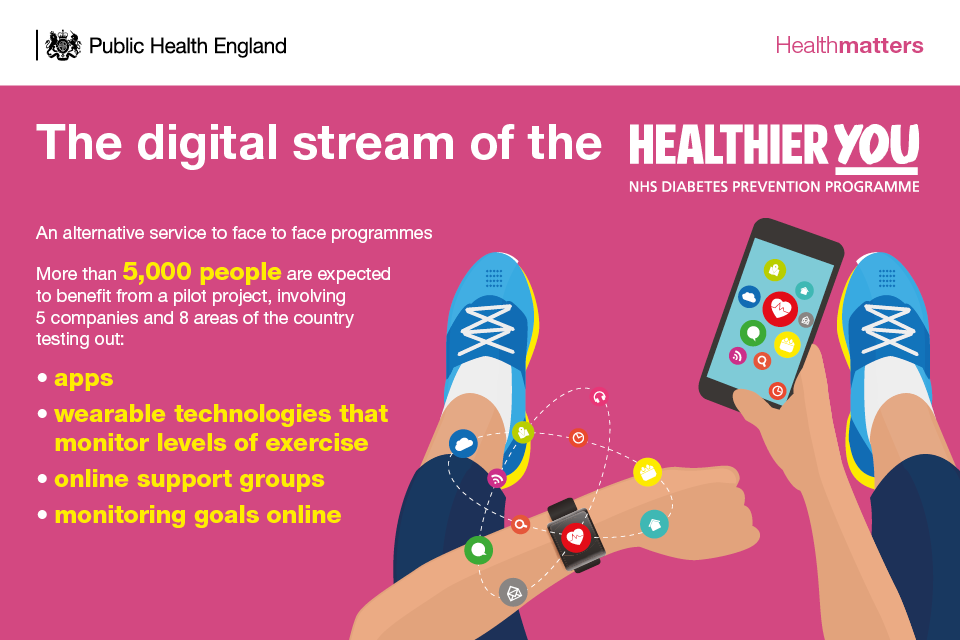 Top line information on the Healthier You: NHS Diabetes Prevention Programme.
At OurPath, we're incredibly proud to be partnered with the NHS as part of the NHS Diabetes Prevention Programme in Bristol, North Somerset, South Gloucestershire, Humber, Coast and Vale and Bedfordshire, as well as in Portsmouth in conjunction with the Solent Diabetes Association.
We're fully aligned with the NHS's priorities in preventing the rise of lifestyle diseases such as type 2 diabetes, where we look to grow into even more CCGs across the country. For the time being, we're lucky to have the support from our clinical partners and patient champions. As a thank you, we've recognised it's our job now to help the NHS continue its work of placing lifestyle diseases in the public spotlight.
The approach to lifestyle diseases such as type 2 diabetes isn't about popularising a fancy 'silver bullet' app or a 'programme for all programmes':
It's about going to the evidence, listening to clinicians, researchers, organisations and people to understand their problems to see what working and what's not.

It's about building something that speaks to people, that is an

actual, long-term, sustainable

solution to their problems that delivers clinical results.

It's about being a soundboard and a servant for the public, and bringing recognition to that the fact that a healthy lifestyle is attainable.
That's what we do at OurPath, and we've learned a lot from our NHS along the way.
So, thank you NHS –  for being a true leader in healthcare services, being a champion for the recognition of lifestyle diseases, and for the last 70 years, keeping the UK healthy.
We're excited to see what the next 70 years have in store.