Are you looking to make some healthy changes and lose some weight? Receiving support and guidance from a dietitian is a great step in the right direction.
There are many different options if you live in Brisbane. We've done the research to share some of the top dietitian clinics in the area.
Dietitian, nutritionist, or naturopath?
You may be confused about understanding the different terms nutritionist, dietitian, and naturopath. To clarify this for you: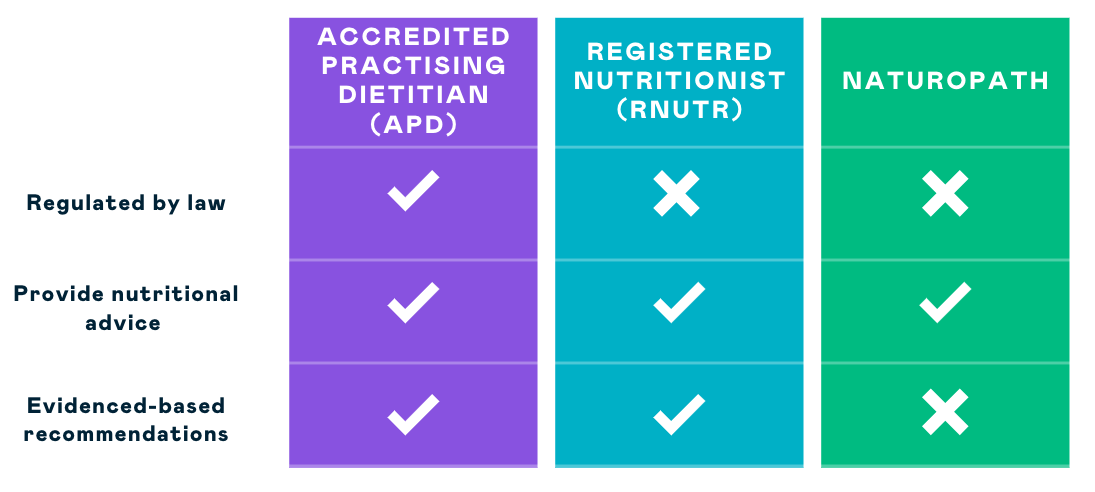 For more detail about the differences between nutrition professionals, take a look at our guide comparing dietitians, nutritionists, and naturopaths.
Dietitians in Brisbane
1) Inner Health Nutrition
Inner Health has a team of dietitians who help clients find solutions for weight loss, digestive issues and intolerances.
Inner Health Nutrition maintain they are the only service in Brisbane to specialise in digestive health, women's health and Intuitive Eating. They use an evidence-based approach to each client, whether this is in intuitive eating, hormonal, or digestive health.
Consultations can be in person in Brisbane CBD or Paddington, or clients can book an online appointment. Some clients may be eligible for a Medicare rebate for their consultation.
Website: www.innerhealthnutrition.com.au
Phone number: 07 3999 8624
2) New Life Nutrition
New Life Nutrition are a team of dietitians and nutritionists who work in clinics across Brisbane. 
They specialise in weight loss, chronic disease management, gut and bowel issues such as irritable bowel syndrome and support clients to identify food intolerances and allergies.
As well as offering private consultations, New Life Nutrition also offer detailed menu analysis for nursing home facilities, and corporate health services. 
New Life Nutrition offers Medicare and DVA rebates.
Website: www.newlifenutrition.com.au
Phone number: 07 5536 6400
3) Plant Nutrition and Wellness
Plant Nutrition and Wellness are a team of four dietitians who provide expert nutrition advice through individual consultations and lifestyle programs. 
Their main focus is plant based nutrition and vegan diets. They also offer support with gut health, fertility, pregnancy, eating disorders and bariatric surgery. 
Services include private consultations and vegan meal plans and clients can opt for face-to-face or online consultations.
Website: www.plantnutritionwellness.com
Phone number: 07 3040 6911
Want to make losing weight feel easier?
Second Nature uses science to help you make healthy choices, ensuring they stick in the long run. Join the 150,000 people on a Second Nature journey today by taking our quiz. We use your quiz answers to tailor our advice and support on the programme, to ensure you lose weight and keep it off.
Alternative option
The challenge with seeing a dietitian in Brisbane is that you have to take a few hours out of your week to travel to and from the session and have the consultation. There are also travelling expenses associated with face-to-face consultations.
While some appointments can now be done online, they often cost the same as in person appointments. On top of this, you're limited to your appointment slot 
For this reason, many people prefer the convenience of an online program, where they can communicate with their dietitian or nutritionist around their busy lifestyle. Plus, many individuals find a digital peer support group to be motivating and helpful.
Second Nature is a digital program that helps you to lose weight and make sustainable lifestyle changes. Second Nature combines support from registered nutritionists and dietitians with the convenience of an app-based program. 
Many people are more familiar with Weight Watchers or Noom, so we created a guide comparing the digital programs with Second Nature to help you decide what's best for you.
The Second Nature program focuses on three areas that lead to long-term habit change: tracking, support, and education. When you sign up for the program, you receive:
Daily support from a dietitian or registered nutritionist health coach

Access to a local support group via the app, with members who have started the programme at the same time (up to 40 members) digital peer support group

2-week, risk-free trial

Hundreds of in-app recipe videos

Daily educational articles 

Meal planning and journaling tools

Steps, weight, and habit tracking technology
We'll help you change your habits to healthier ones, entirely from our app with no need for face-to-face meetings.
Take a look at our Trustpilot reviews to understand what people think of the program.
Pricing
Monthly face-to-face consultations with a dietitian, nutritionist, or naturopath at a clinic can be very expensive ($150+/hour).
We have compared the prices of visiting any private nutrition clinic in Brisbane with the Second Nature program in the table below:
Monthly dietitian
Second Nature

Price

$150+ /

month

$75 / month
To find out more about what users think of Second Nature, read their stories here.